Mobile Telephony - Frequently Asked Questions
My Mobile Connection & Device
Q: Do I need a new mobile telephone connection to make RR calls?
A: No, you can use the RR Mobile Telephony with your existing Cyprus SIM card and mobile phone device. The RR Mobile Telephony service is an alternative way to place calls and does not substitute your existing telephone connection.
Q: I do not have a SIM card. Can I buy one from eUmbrella Corporation?
A: eUmbrella Corporation does not sell SIM cards. You can buy a prepaid SIM card at kiosks and other points of sale.
Q: Can I keep my mobile telephone number?
A: Yes, you can continue using the same number. When you make a call with RichReach, the destination will see the call is coming from your telephone number.
Q: Do I need to transfer my mobile number to eUmbrella Corporation?
A: No. RichReach does not replace your existing connection. Both operate at the same time.
Q: I have a prepaid mobile package. Is it supported by RichReach?
A: Yes, both prepaid and monthly mobile packages are supported.
Q: Can I stop paying my mobile package provider if I use the RR Mobile Telephony service?
A: No, an active mobile connection is required:
   Monthly:  Any monthly fixed fees and charges of your SIM card have to be paid.
   Prepaid:  Your SIM card must not have expired and it must have a balance of at least a few cents before you can place a call through RichReach.
  Also, incoming calls are received through your traditional mobile connection and provider so you cannot cancel it.
Q: I do not live in Cyprus. Can I use the RichReach Mobile Telephony?
A: Unfortunately not today. We do have plans to release the RichReach Application and Platform internationally.
Q: Can I install the RR App on my tablet?
A: You can as long as the tablet has a telephony SIM card (not internet SIM card).
---
Calling
Q: Do I have to use a special prefix or number in front of the destination number to make a RR call?
A:  Calling with the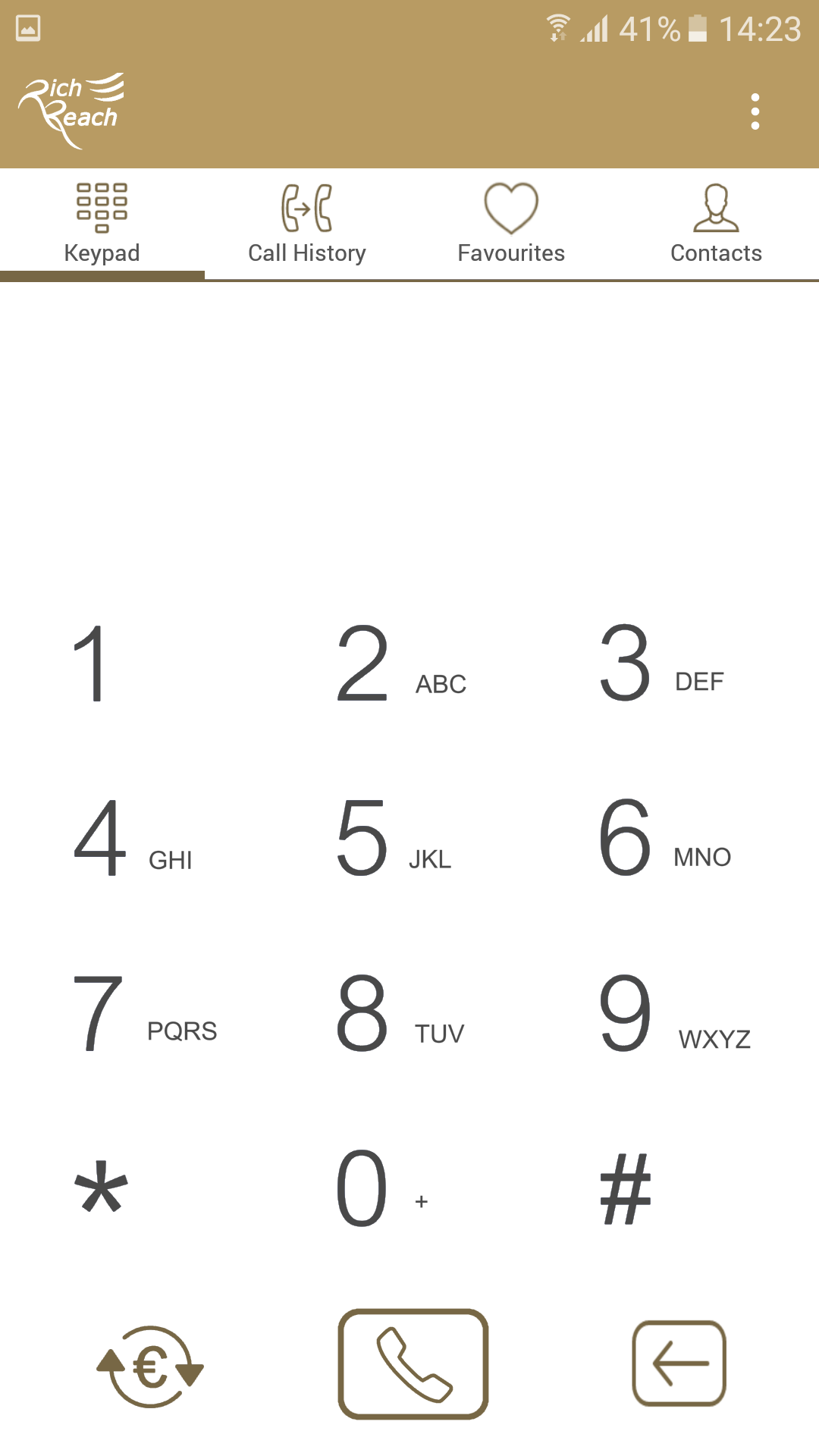 RR Telephony Keypad:  Just dial the destination number. The RR App will place the call.
   Calling from your smartphone:  To place RR calls even if you are outside the RR App (devices telephony keypad), please activate the "Local Calls" and/or "International Calls" at the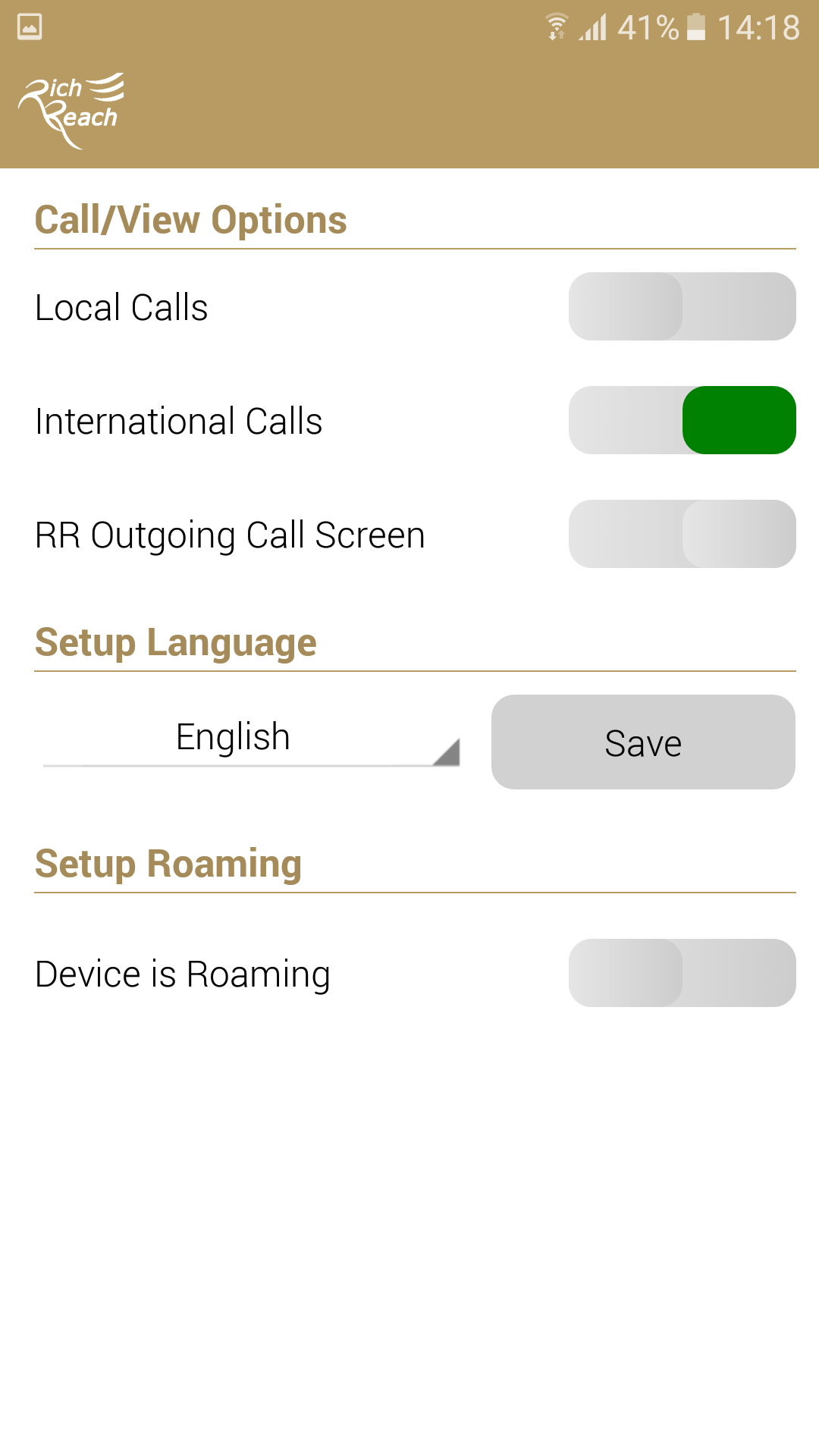 Telephony Settings (Android only).
   Non-smartphones:  You have to first call the RR Calling Card access number 80040800 and follow the instructions to place the call.
Q: My mobile telephony package has free local minutes. Can I call with RichReach also?
A: Yes. However only activate the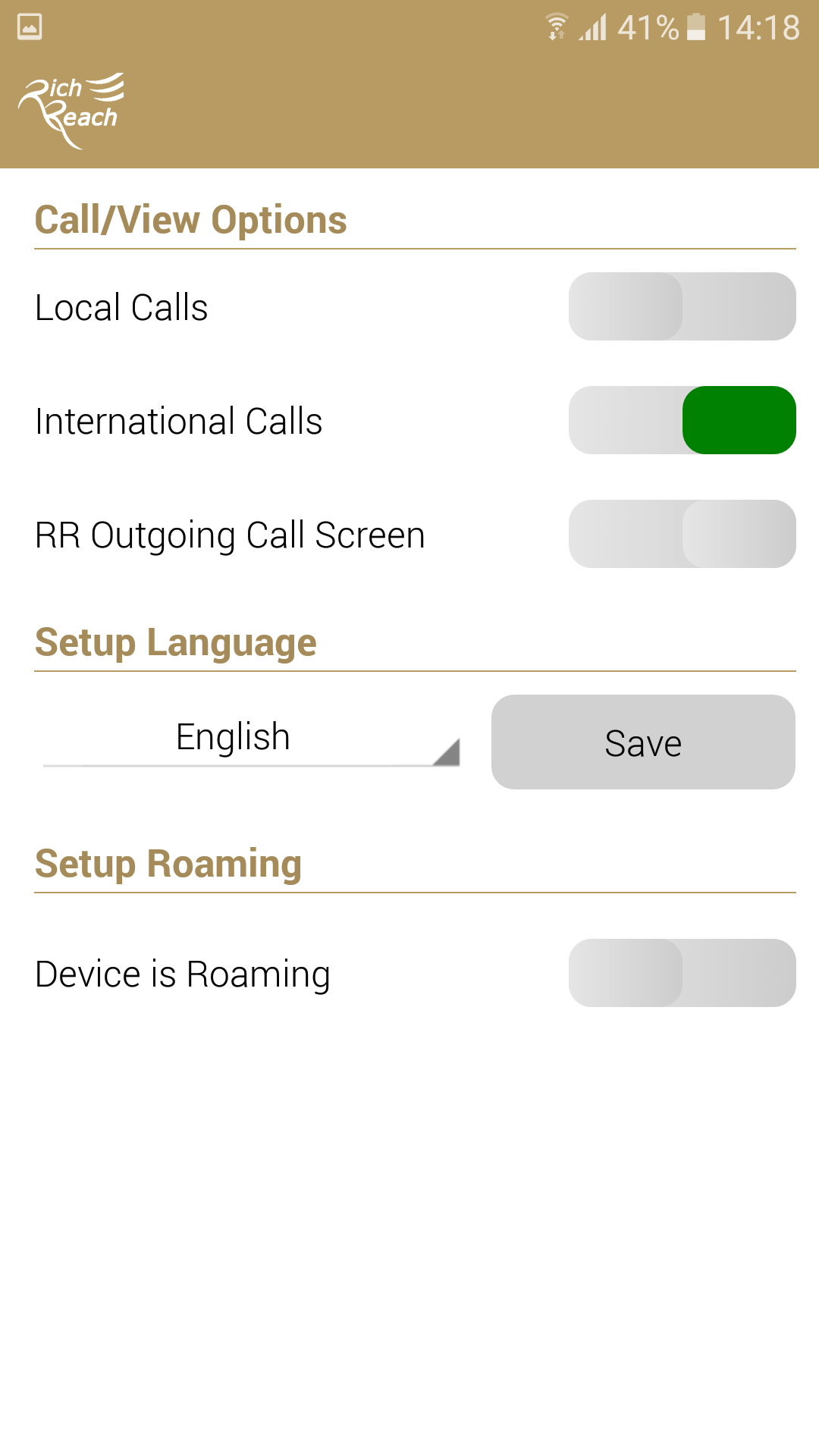 RR Local Calls Feature after you have used your free local minutes.
Q: Can I use my internet access to make calls?
A: Not at this moment. The "Internet Call" feature is under development.
Q: I am calling someone who is also using the RichReach Application. Is the call free or cheaper?
A: This facility requires the "Internet Call" feature which is not yet available.
Q: What happens when someone is calling me?
A: Your incoming calls are handled by your mobile telephone provider. eUmbrella Corporation is not involved.
Q: What is the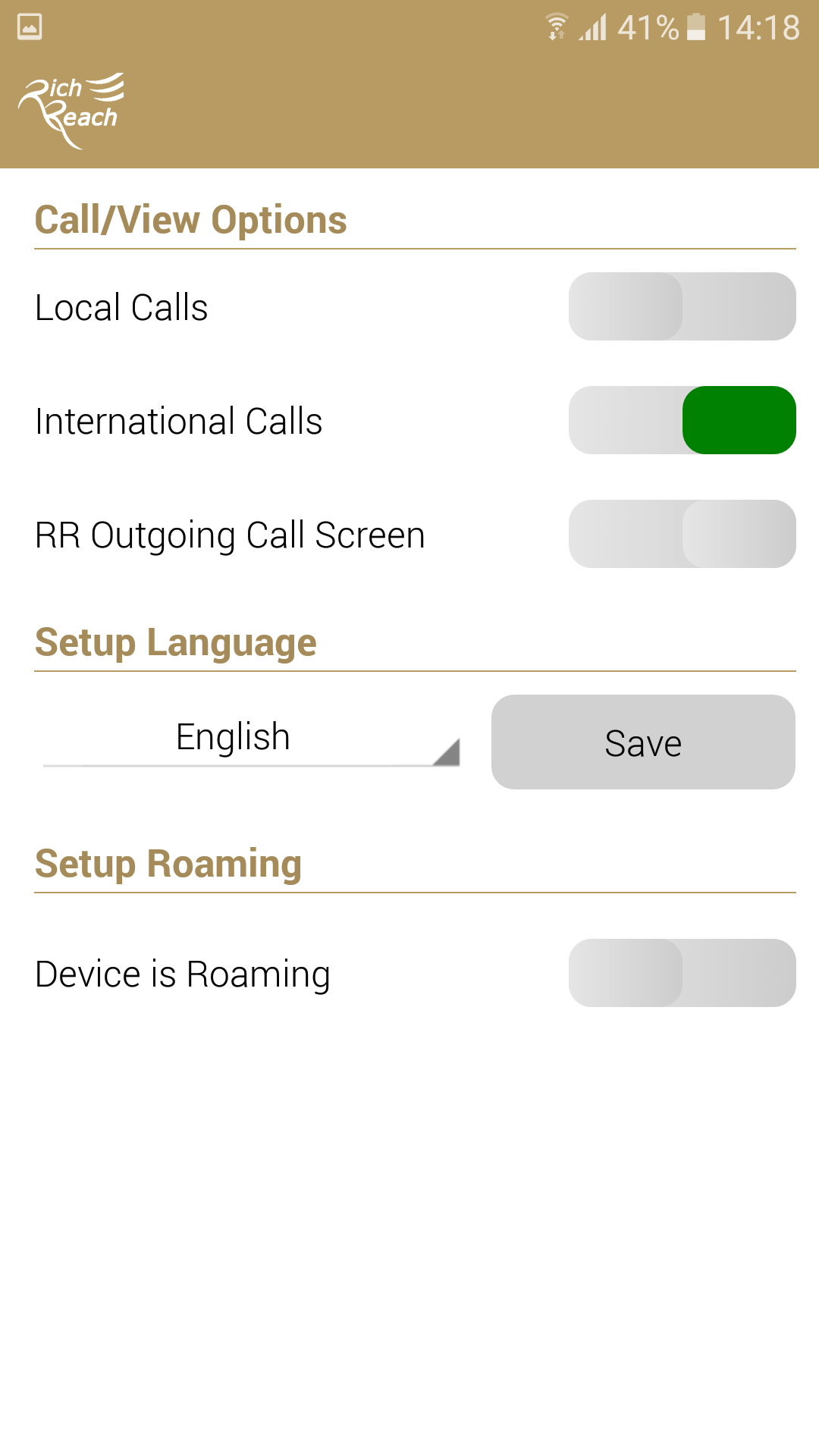 RR Outgoing Call Screen?
A: If you activate this feature, the RR screen appears when you place a call.
---
Pricing
Q: Are there any registration or monthly fees?
A: No, you only pay for the calls you make.
Q: Is there any commitment like a minimum period?
A: No. You can stop calling from RichReach at any time.
Q: How can I check that you are not cheating me?
A: Open the "Call Statement" of the RichReach Application to view the calls you have made, the duration and charge. You can also view the full statement with the payments you made at the RichReach Telephony Web Portal.
---
Assistance
Q: I cannot make a RichReach call. What can I do?
A: The RichReach telephony systems use your existing mobile connection to offer you the RR Mobile Telephony services. If you face a problem placing a RR call it can be due to several reasons:
  1) If you cannot make any calls (by using both eUmbrella and your normal mobile connection provider):
    a) Restart your mobile phone and try again.
    b) Try calling your mobile number from another phone. If it does not ring there might be a problem with the mobile phone, SIM card or your mobile connection provider might be facing problems in your area.
    c) Monthly Packages: Have you paid your bill?
    d) Prepaid Packages: Has your connection's validity period ended? Do you have a few cents in your SIM card balance?
  2) If you can call some numbers and not others there might be a problem with the destination number. Try again later or contact us to investigate.
  3) If you cannot make any calls through eUmbrella but you can call through your mobile connection provider, your RichReach Telephony balance may have run out. You can find out your balance 1) at the RichReach App -> Telephony Keypad or 2) by calling 80040743. You can Top Up your account with one of the available methods at the App or by buying one of our prepaid vouchers "Cover Cash" and "Hello Calling Card" at kiosks and other points of sale that offer the Mobee Payment Service.
Q: I have tried the solutions you suggested in the previous answer but I still cannot make a RichReach call
A: Please Contact Us to assist you.
Q: Sometimes when I make or receive a call the RichReach App crashes
A: the RR "Incoming and Outgoing Call Screens" features are not compatible with some smartphones. Please disable these features.