About the RichReach Telephony services
The Telephony services is a core part of the RichReach Platform and is available to corporate and retail clients. In addition to normal local and international calls, the RichReach Telephony systems can be used to place Teleconference Calls, Group Calls and contact the eUmbrella Partners.
There are No Activation Fees and No Set-Up Fees. No commitment is required. You are charged only for the calls you place through the RichReach Platform.
If you would like to use the RR Telephony services, you must have an active telephone connection (monthly or prepaid). There is no need to change your telephone number or telephony service provider. You can use both RichReach and your traditional telephone connection at the same time. It is up to you to choose with whom you would like to place your call. This allows you to receive both the RichReach discounted prices and the benefits of your traditional telephone connection (ex: free local minutes).
To offer you the best possible quality at the lowest cost, RichReach is connected with well known, highly reliable local and international telephony networks. Your RichReach calls are routed via the network that offers the best call quality and the most direct connection to the destination number. In addition, every destination is supported by more than one network. In the remote case a network is not able to support a call, the call is routed through an alternative network to ensure your call is successful.
The RichReach Mobile Telephony service
You can make RichReach calls through your mobile connection by installing the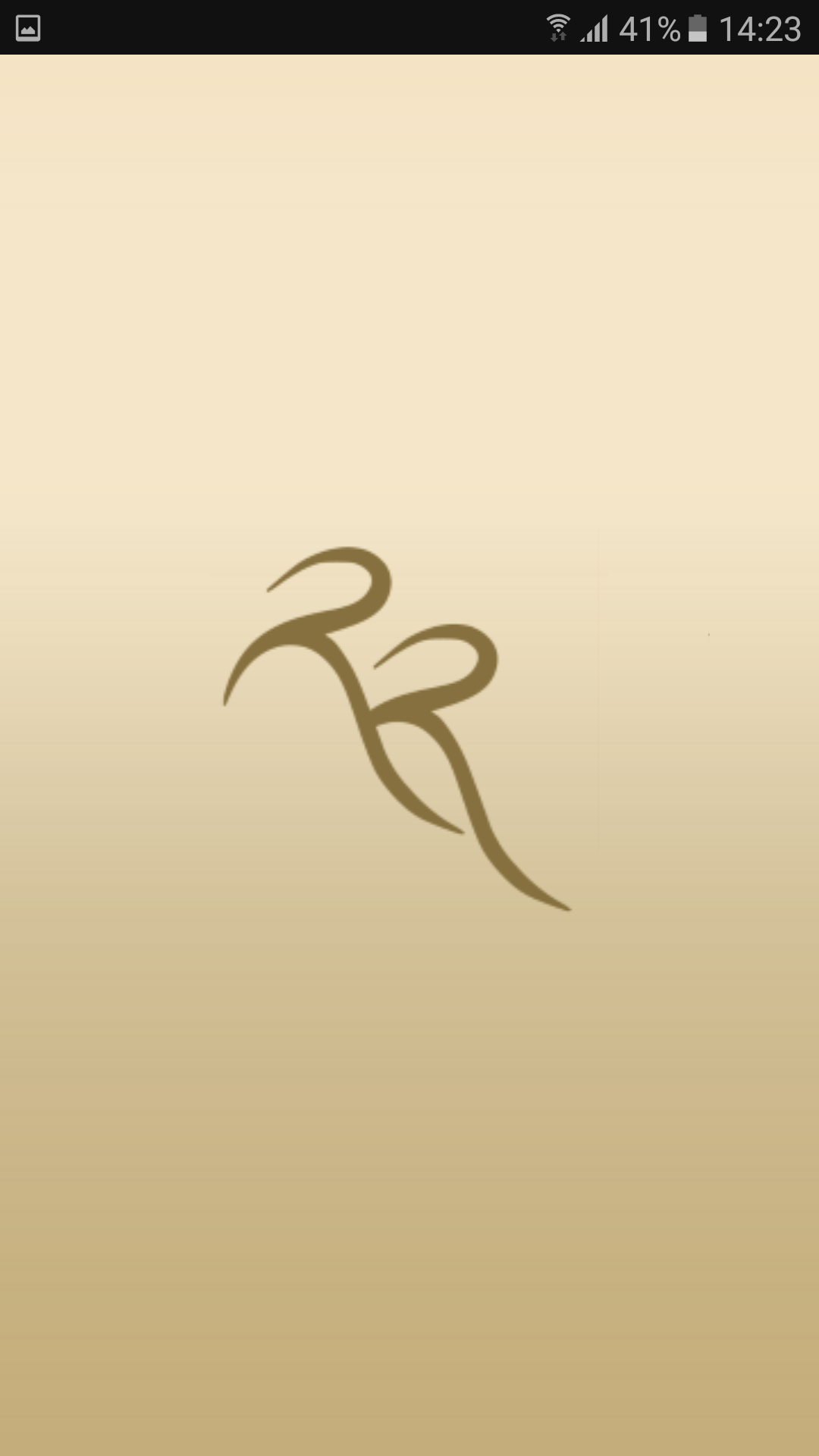 RichReach Application on your smartphone.
The Application is currently available for phones with a Cyprus SIM card. The calls are placed through the GSM connection and no internet is required.
If your Cyprus SIM card mobile phone is a non-smartphone, you can use the RichReach Calling Card service by dialling the toll free 80040800 and follow the instructions. Calling via 80040800 offers limited benefits and interactivity with the RichReach Platform. You can Top Up your RR Telephony Wallet by buying one of our prepaid vouchers "Cover Cash" and "Hello Calling Card" at kiosks and other points of sale that offer the Mobee Payment Service.
The RichReach Application
The RichReach Application is a multi-function application available at the Android store that can be installed on smartphones. It offers a number of services, features and functions that make it a tool to be used on a daily basis. One of the RichReach services available on the App is the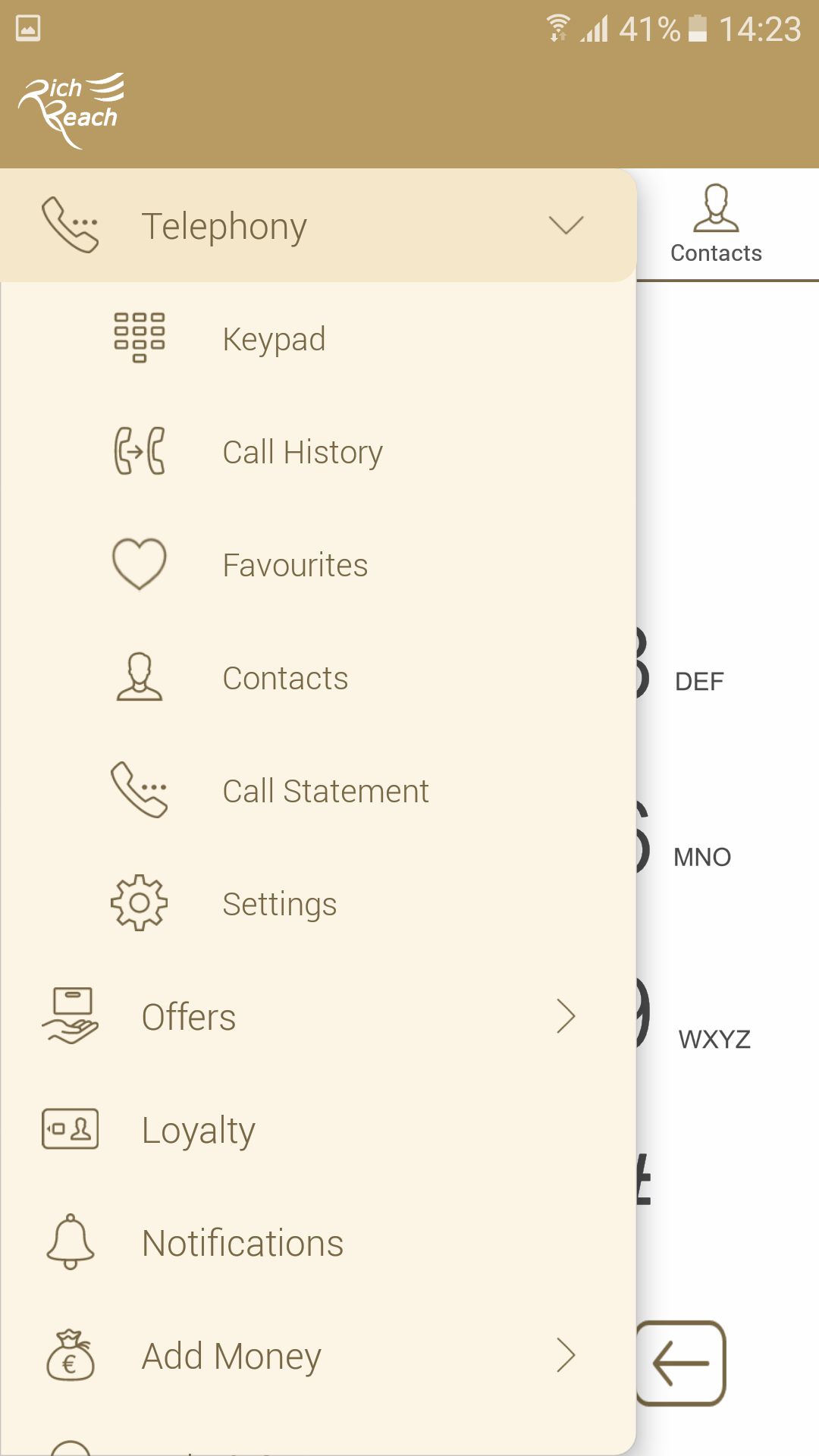 Mobile Telephony.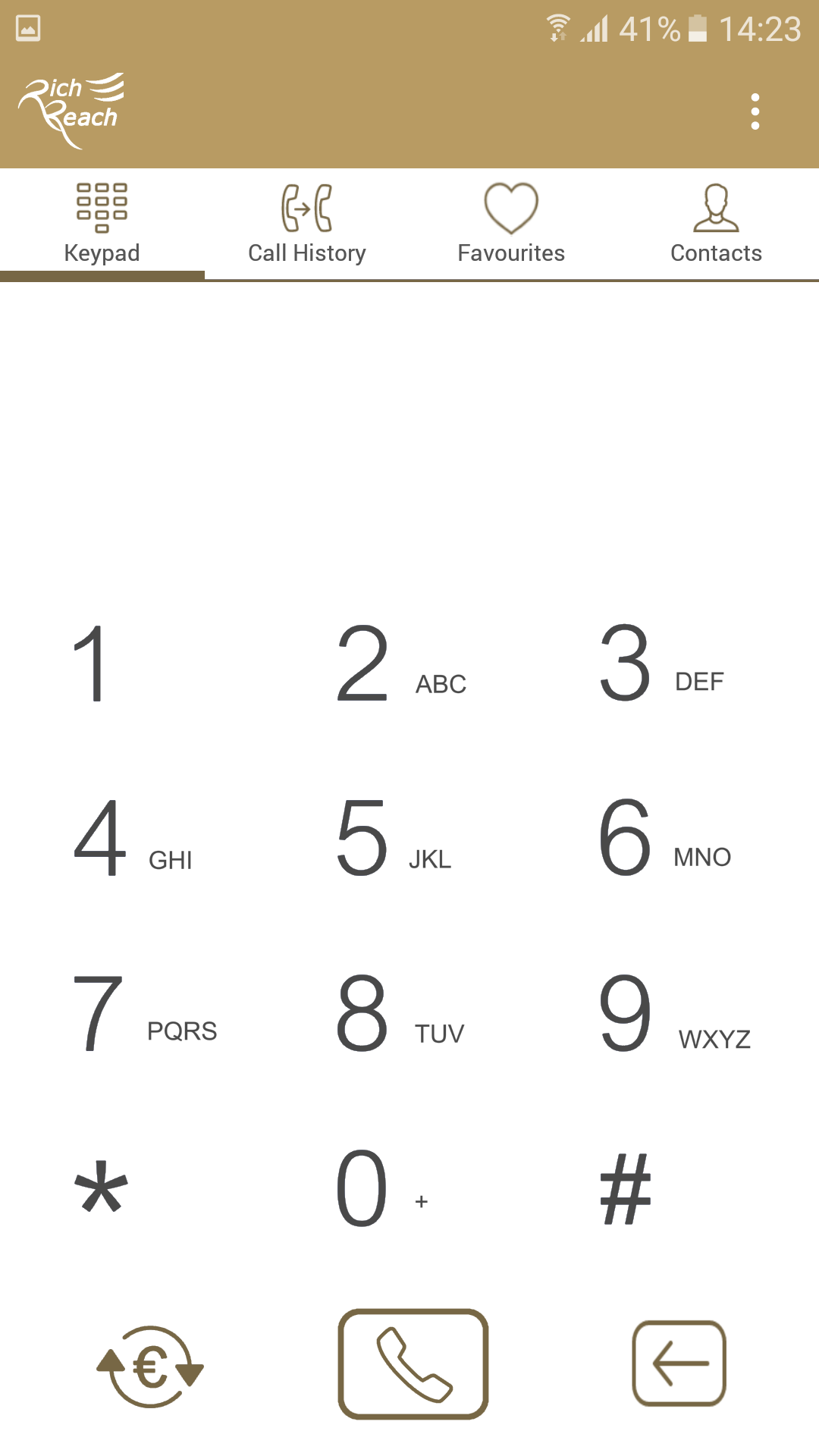 Telephony Keypad
✔ Dial a number to make a RichReach Call
✔ As you type a number,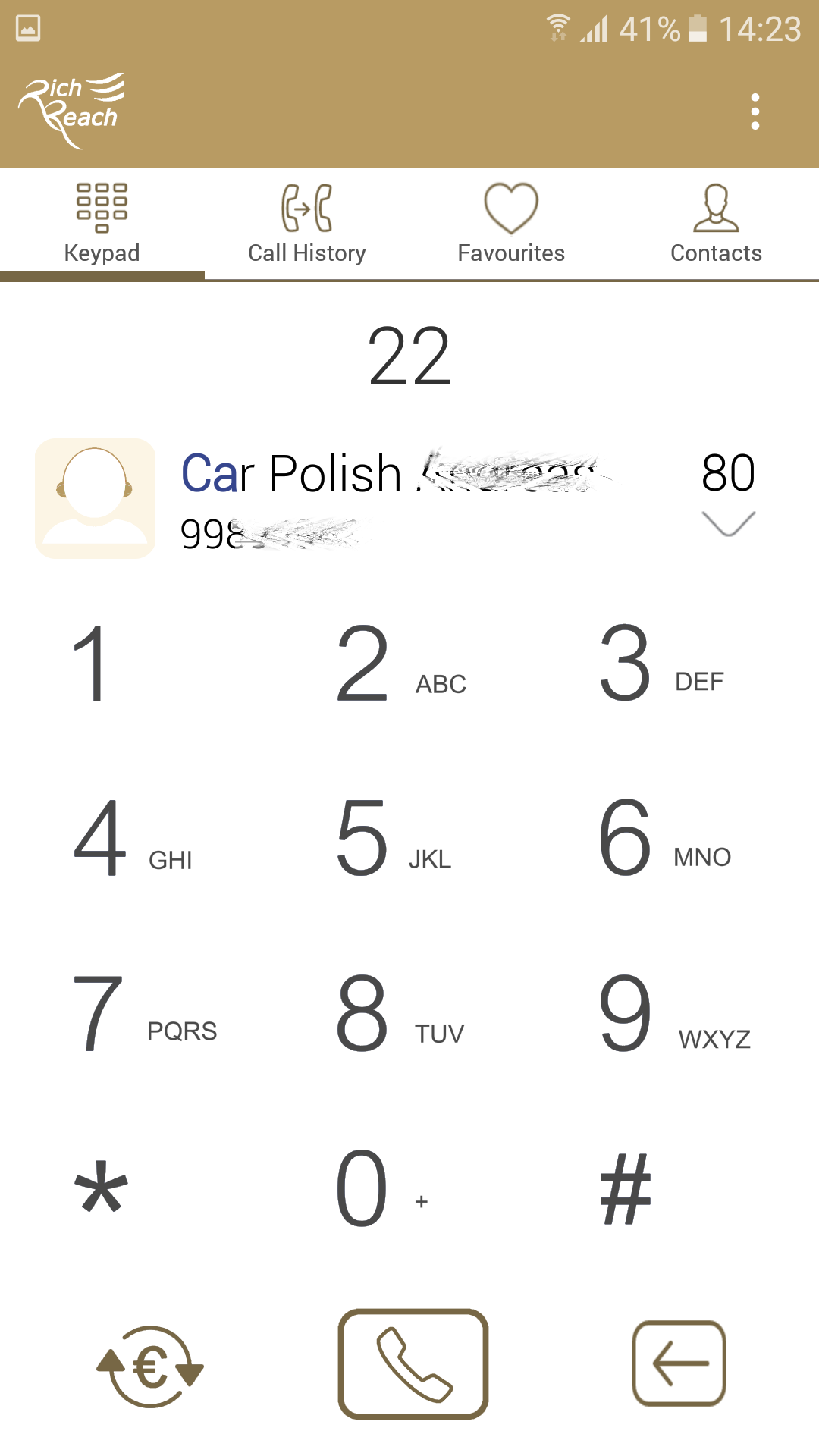 Magic Search searches your Phone Contacts and recommends numbers and names. The keypad numbers are translated into potential numbers and letters to search your Contacts: 2 = 2 A B C, 3 = 3 D E F, etc. Dialling 62 makes a list of all contact names with first letter M,N,O and second letter A,B,C and all contact numbers starting with 62.
✔ You can find out your Telephony Balance from the keypad. If you do not have internet connection, a toll free number is dialled instead and you can hear your balance.
✔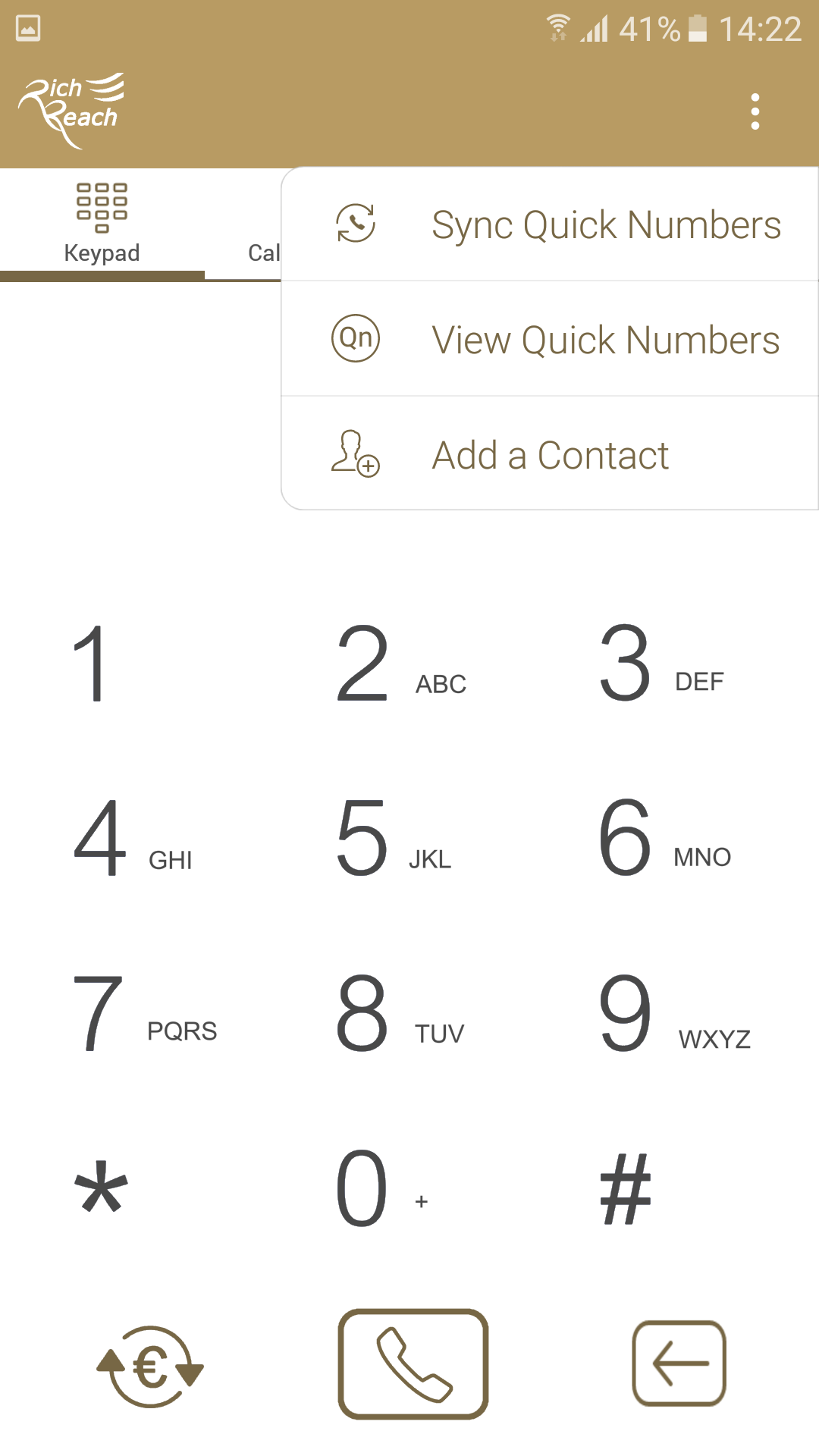 Quick Numbers are created for your top 99 RR call destinations to offer you the "Faster Dialling Feature". Click on "Sync Quick Numbers" to synchronize the Application with the RichReach Platform and benefit from the faster dialling.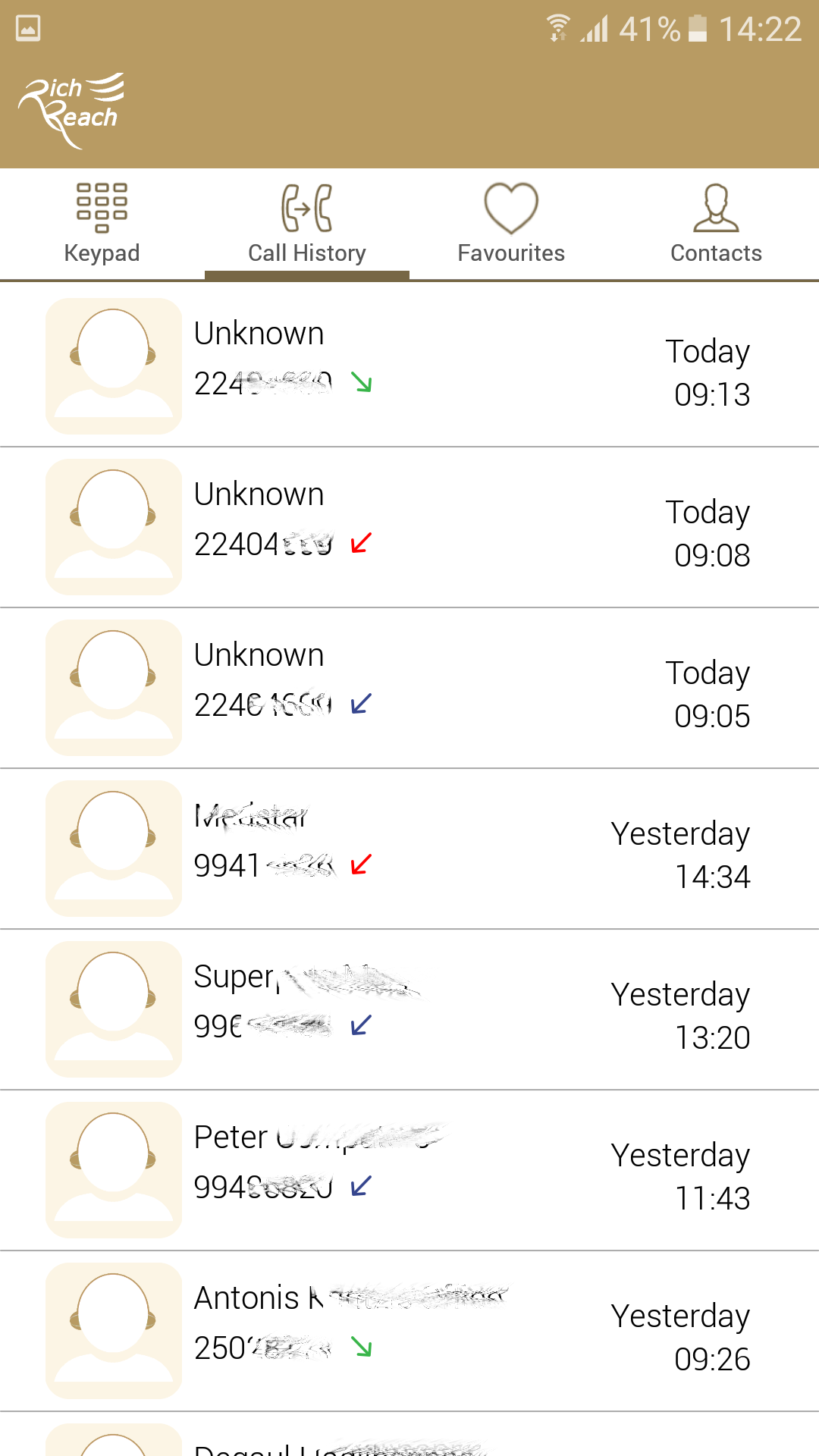 Call History
✔ The Call Log displays all incoming, outgoing and missed calls from both RichReach and your mobile connection.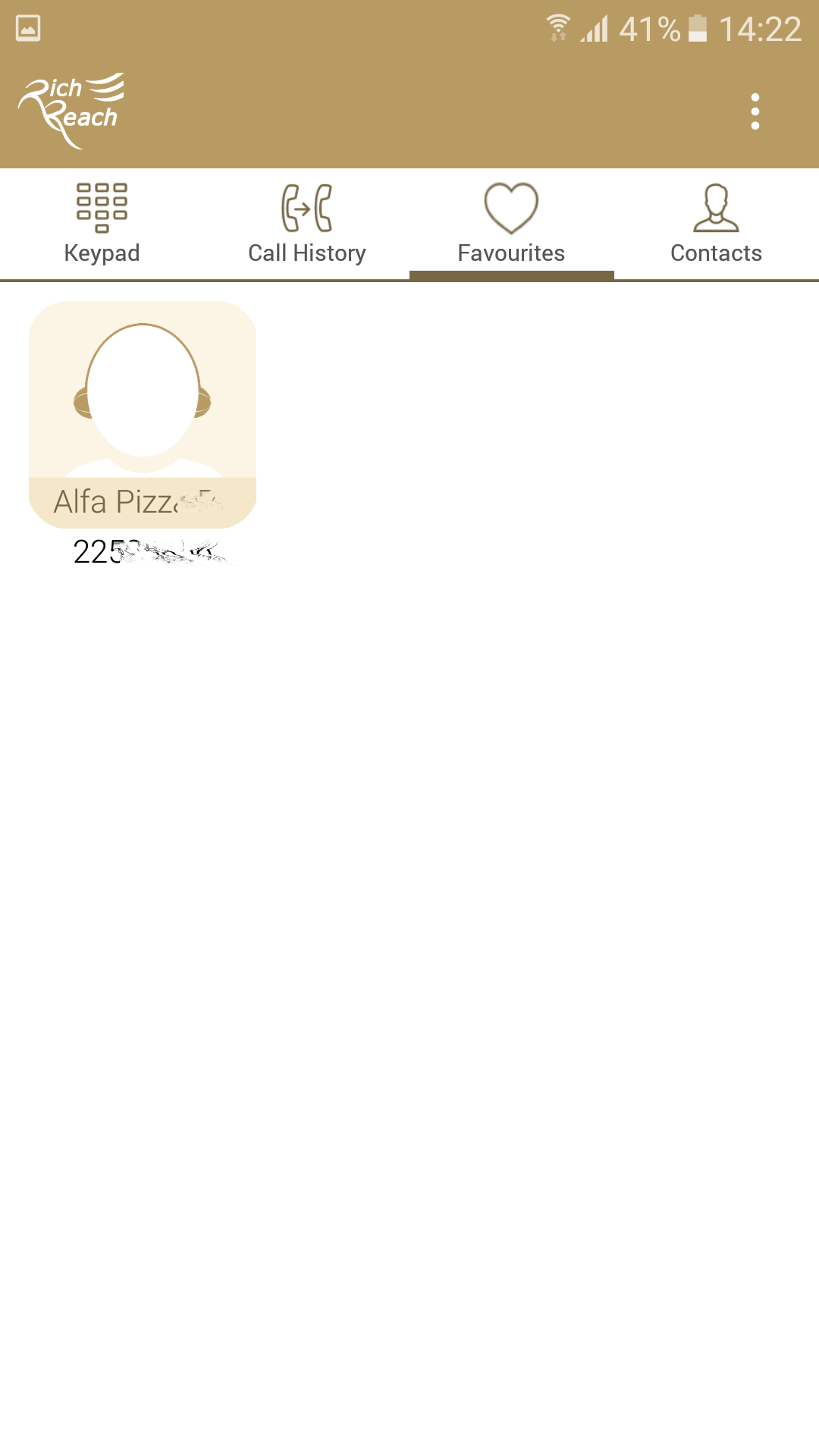 Favourite Contacts
✔ To quickly find your favourite contacts, add them to Favourites. You can also back-them up to the RichReach Platform so as to recover them in case you change or reset your device.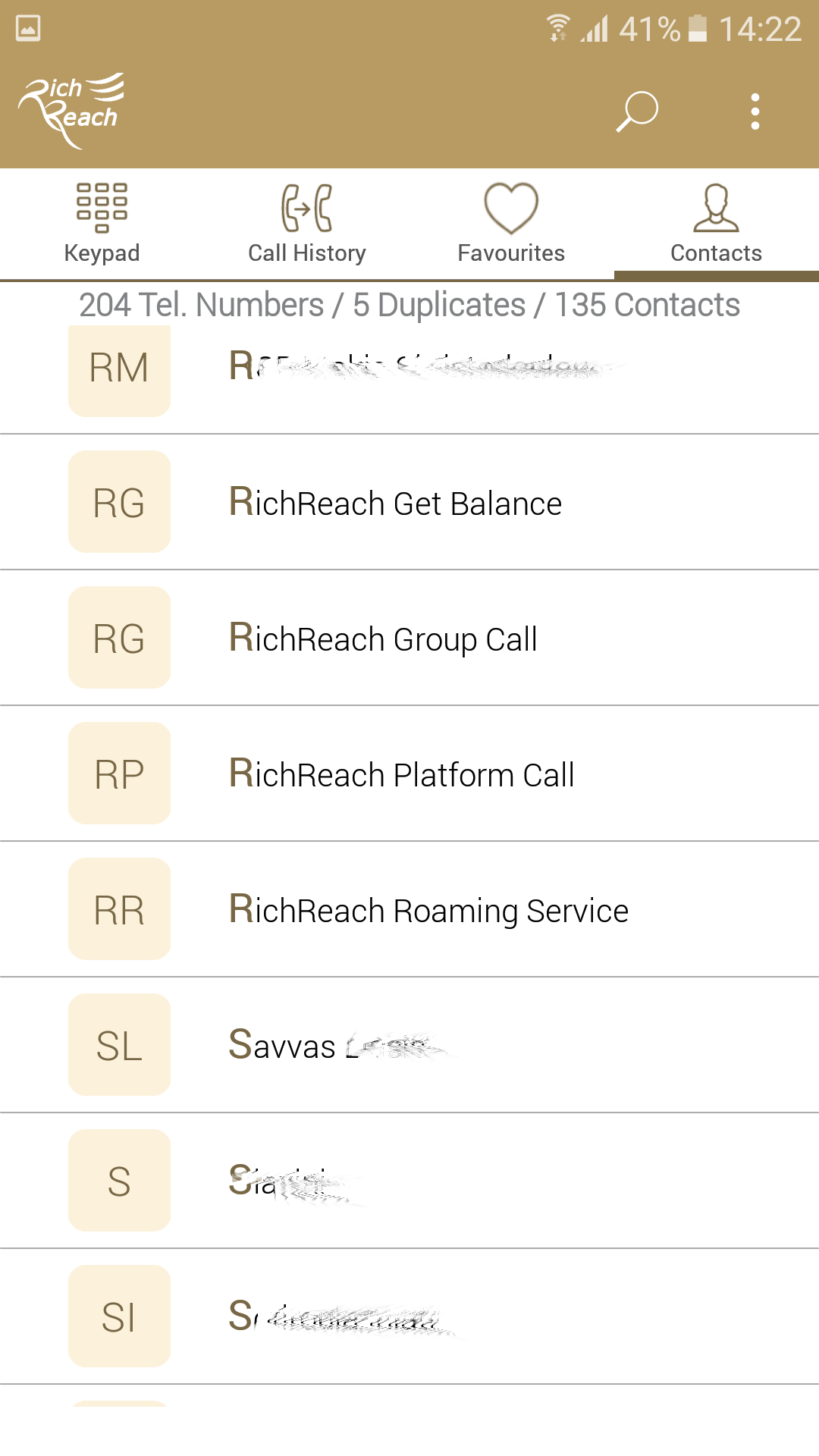 Contacts
✔ The RichReach App retrieves your device's Contacts to easily place calls and perform Magic Search.
✔ If you do not wish to receive calls from a specific number, you can add it to your Contact List and then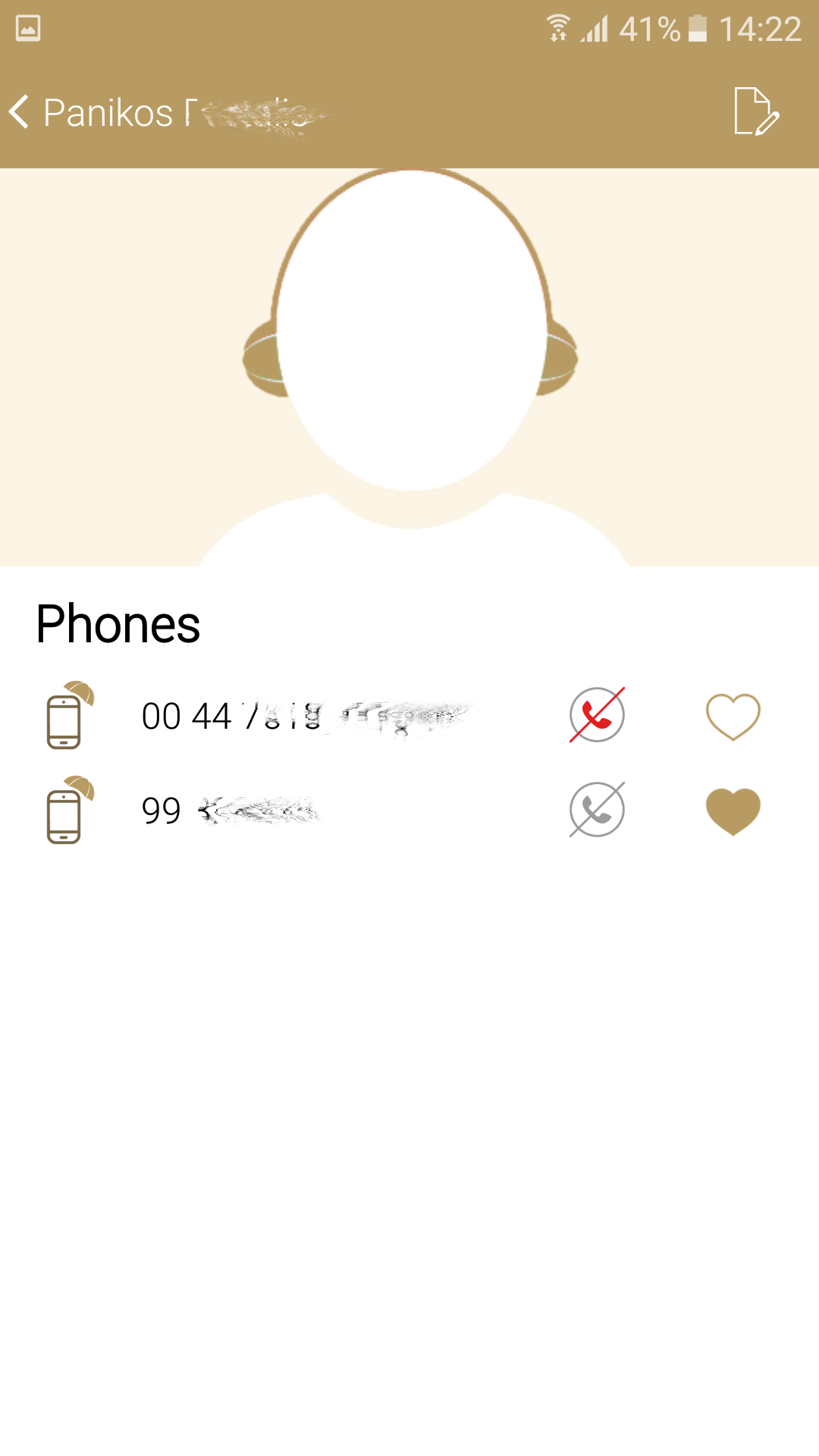 block it in RichReach. You will not be notified next time these telephone numbers try to call you.
✔ With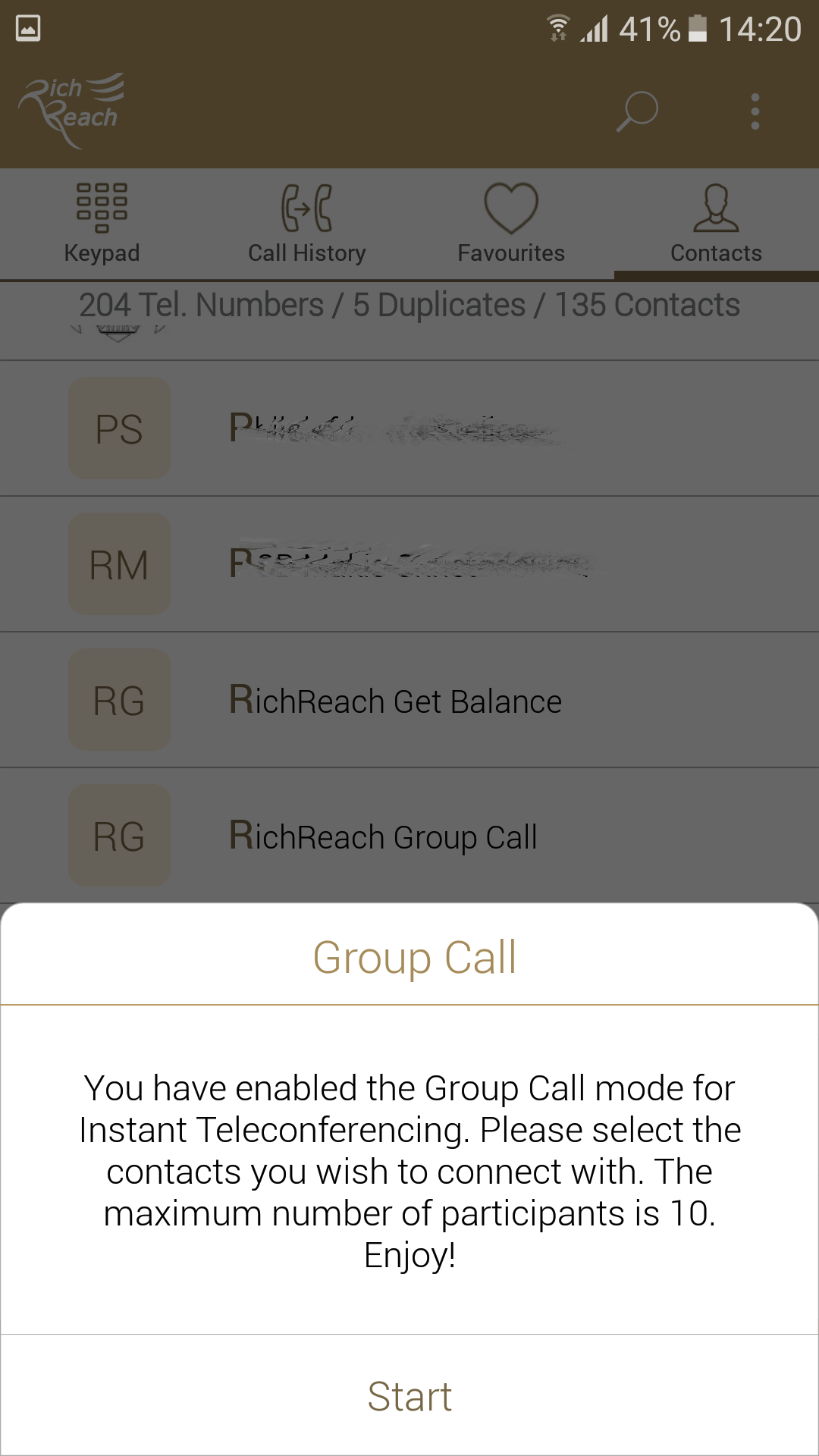 Group Call you can speak with multiple people at the same. Just "Start a Group Call", select up to 10 Contacts and start the Call.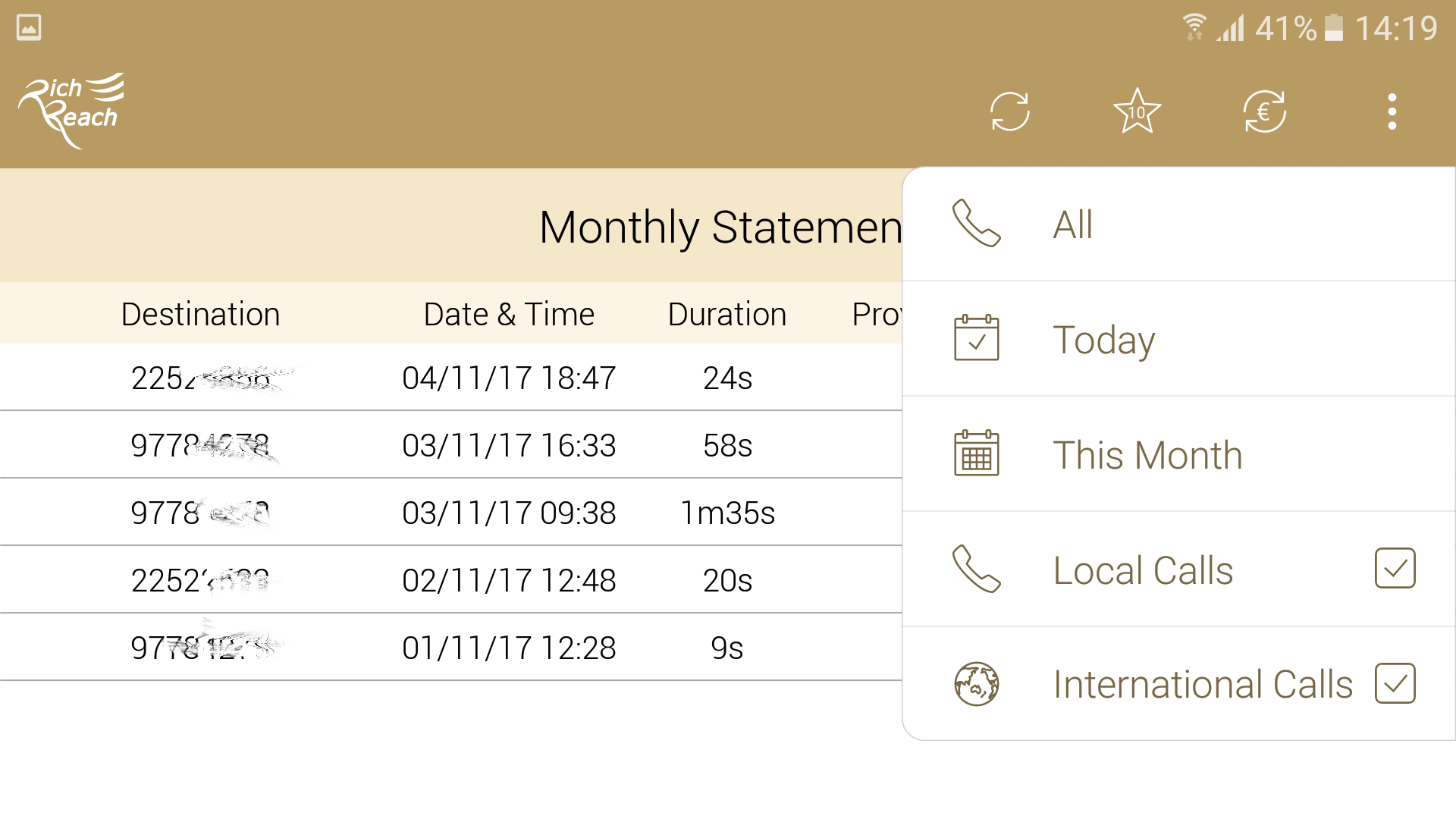 RichReach Call Statement
The calls you have made through the RichReach telephony systems:
✔ Select to view all calls, today's calls or this month's calls
✔ View only local or only international or view all calls
✔ Find out which are your top 10 destinations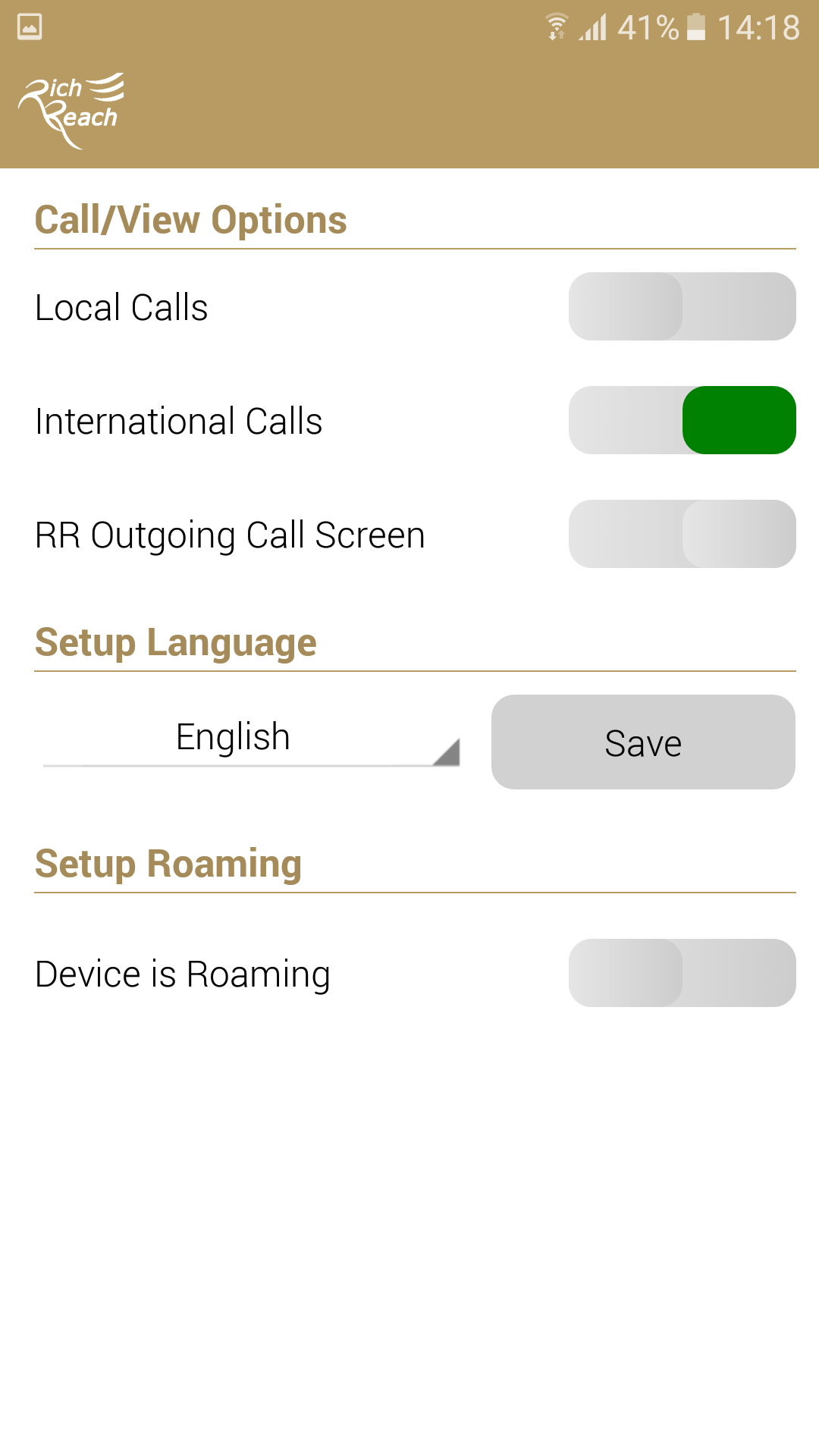 Telephony Settings
✔ By activating "Local Calls" and/or "International Calls", RichReach will be used to place a call even if you dial the destination from the device's normal dialler (outside the RR App). If you have free local minutes, you should activate this feature only after you have used your free local minutes (and disable it at the start of each month when your free local minutes usage resets).
✔ Activate the "RR Outgoing and the RichReach call screen are viewed instead of your device screen
✔ RichReach is multi-lingual. However, RR Content and some App text may not be translated into a language. In such a case English or the available language is used instead.
✔ You can make RR Calls when you are travelling. Just turn on the Roaming Feature.
Important: Please be aware that when you are travelling overseas (roaming), mobile data is more expensive. It is recommended you turn off "Mobile Data" and only use Wi-Fi for internet access when you travel overseas.
---