Would you like to advertise your products, services, offers and discounts?
Do your current advertising methods seem to be outdated and less effective?
Are you looking to communicate with your customers and business partners in a more dynamic, interactive, measurable and traceable way?
The RichReach eMarketing service is what you are looking for!
A New Digital Communication Channel
The exponential advancements in computing technologies have created mobile phones that are behaving like small computers. The smartphones' mobility and ability to perform multiple daily tasks could replace the traditional desktop and laptop computers.
We often witness companies releasing their own applications at the smart device application stores. Releasing a smart device application can be difficult due to the high development costs and the need for mobile application expertise.
Although all smartphones have internet navigation engines, their small screens make website navigation and viewability difficult. Traditional eAdvertisement is available through third party applications but may not be targeted, may not reach the intended recipients and the result may not be measurable.
eUmbrella Corporation has released the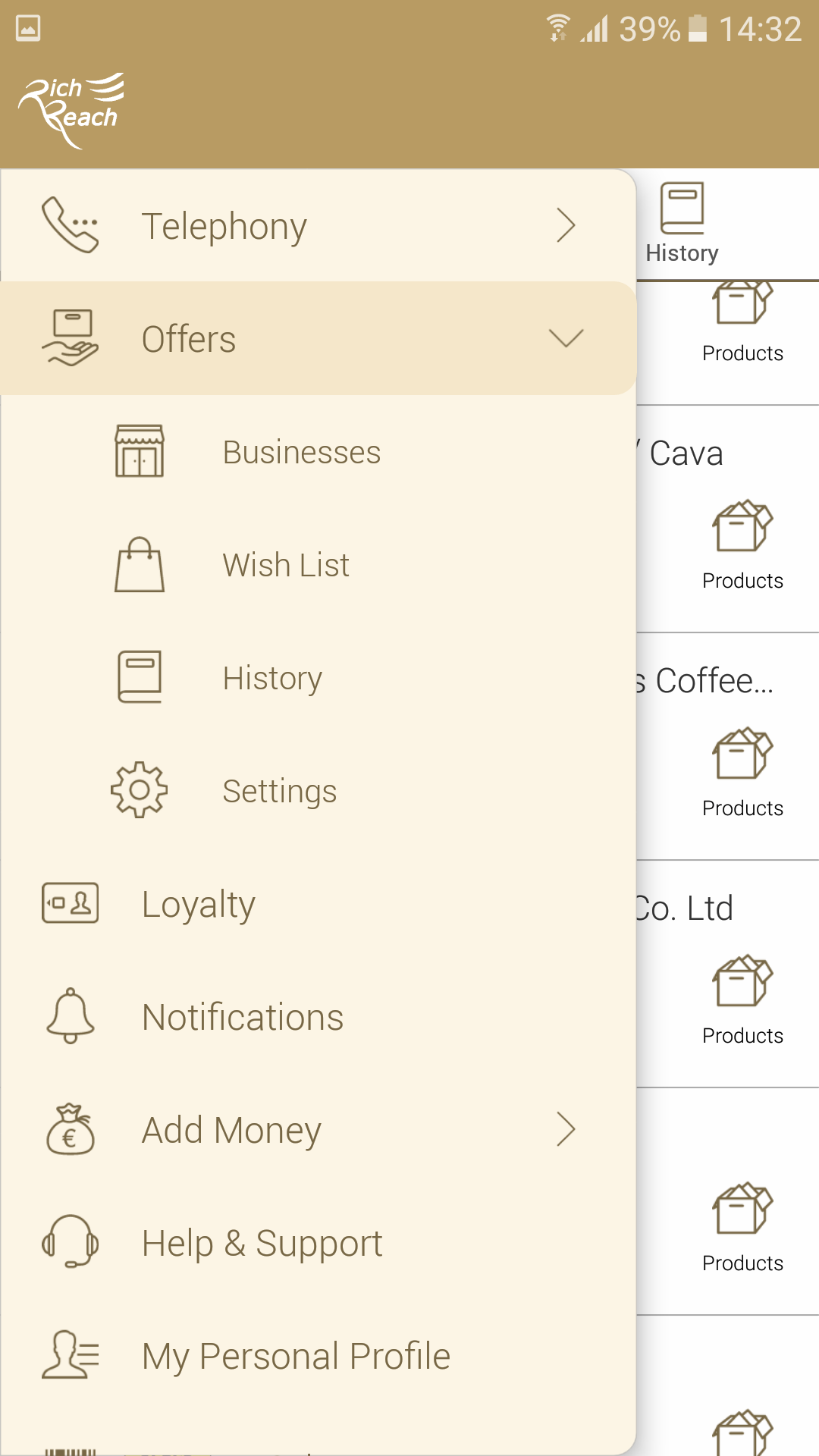 eMarketing / eOffers service on the multifunction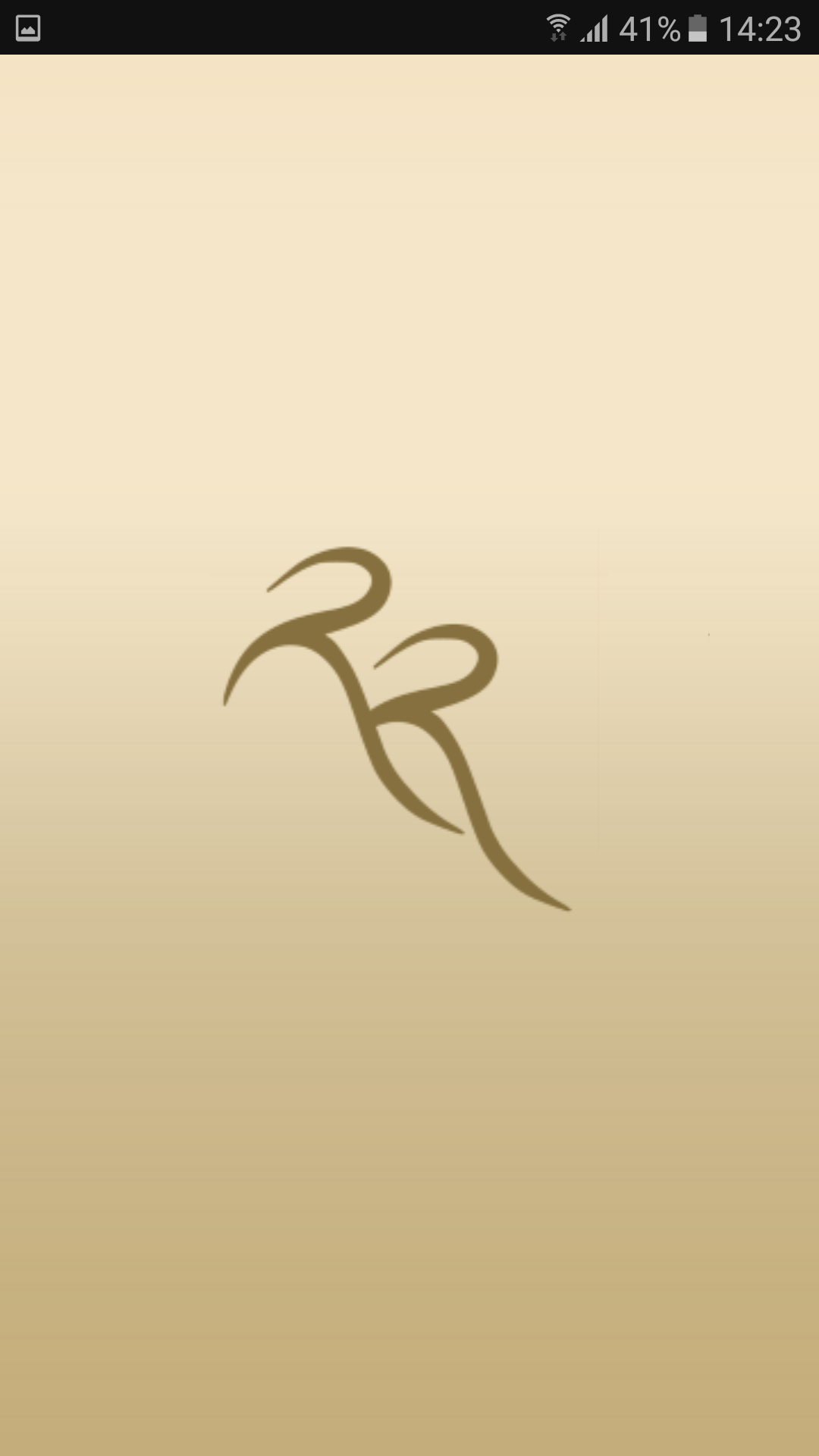 RichReach Application. It has been specifically developed to assist sellers of any type and size to advertise and promote their products and services on smartphones. It is currently available only in Cyprus.
It's as Simple as this
1) Register at the RichReach Web Portal
2) Activate the eMarketing service and create your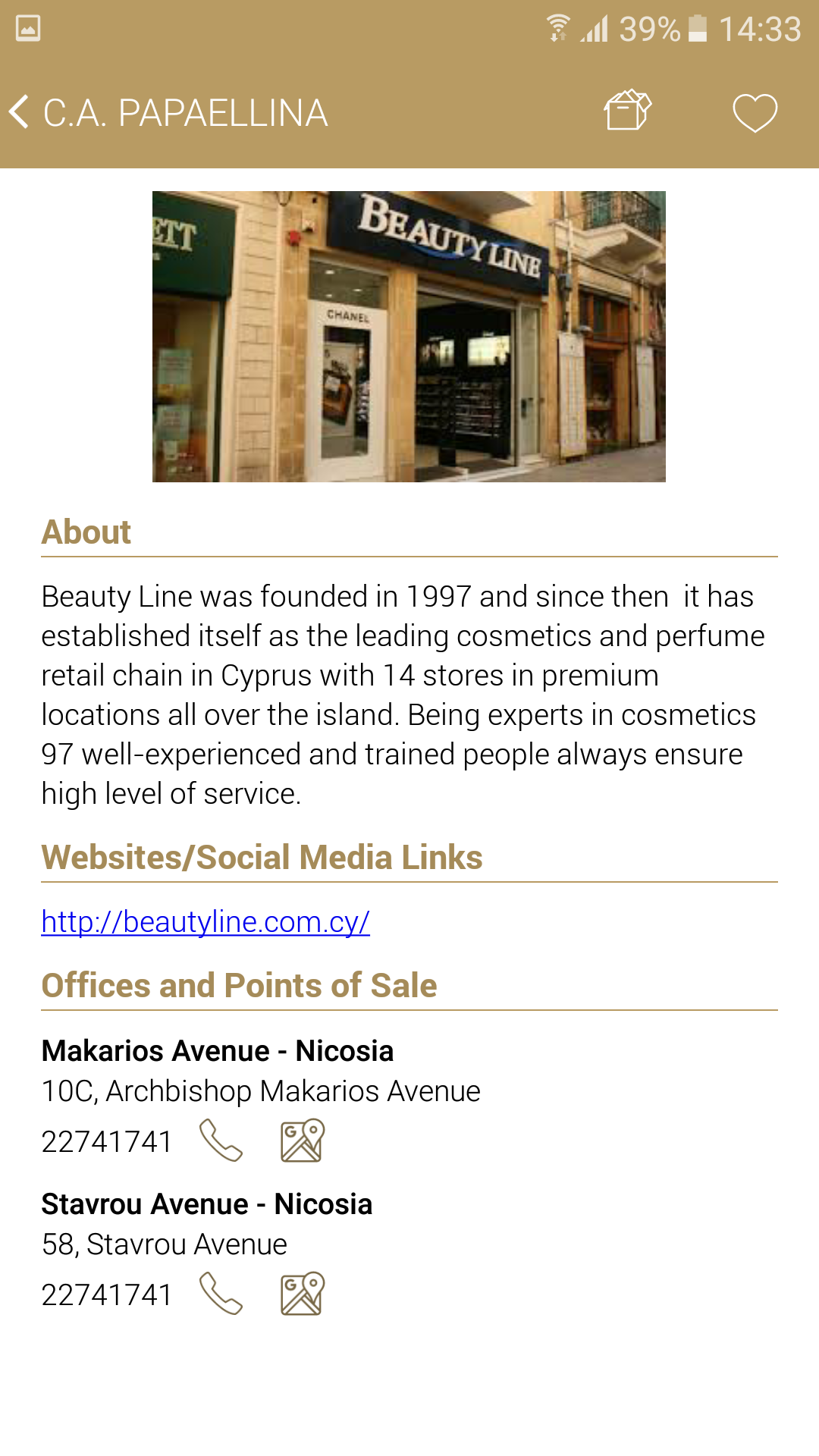 mini website at the RichReach App
3) Create your Point of Sales, Categories, Brands and Suppliers
4) Create your Products and Services (import from excel file available).
5) Create Notification Groups (your customers and business partners)
6) Create and Publish your Offers
7) Use Campaigns to notify your customers and business partners that new Offers have been published
8) Repeat steps 6 & 7 as needed
Benefits for Sellers
✔ The latest advertising trends are available on your fingertips
✔ Publish your Rich Content:
    a) Information about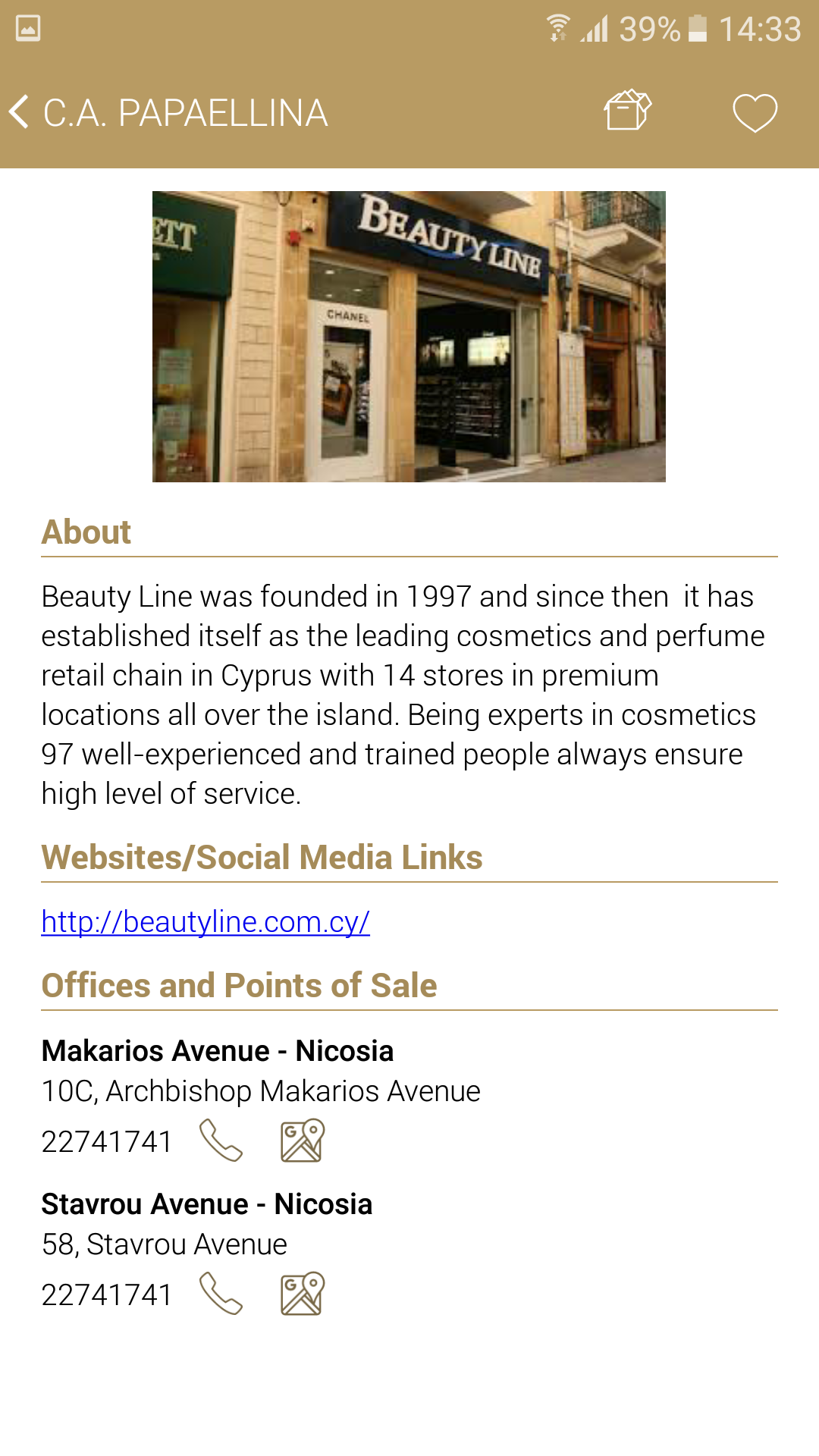 yourself, your locations and your communication details (mini website)
    b) Multiple types of Offers are supported including location/proximity marketing
    c)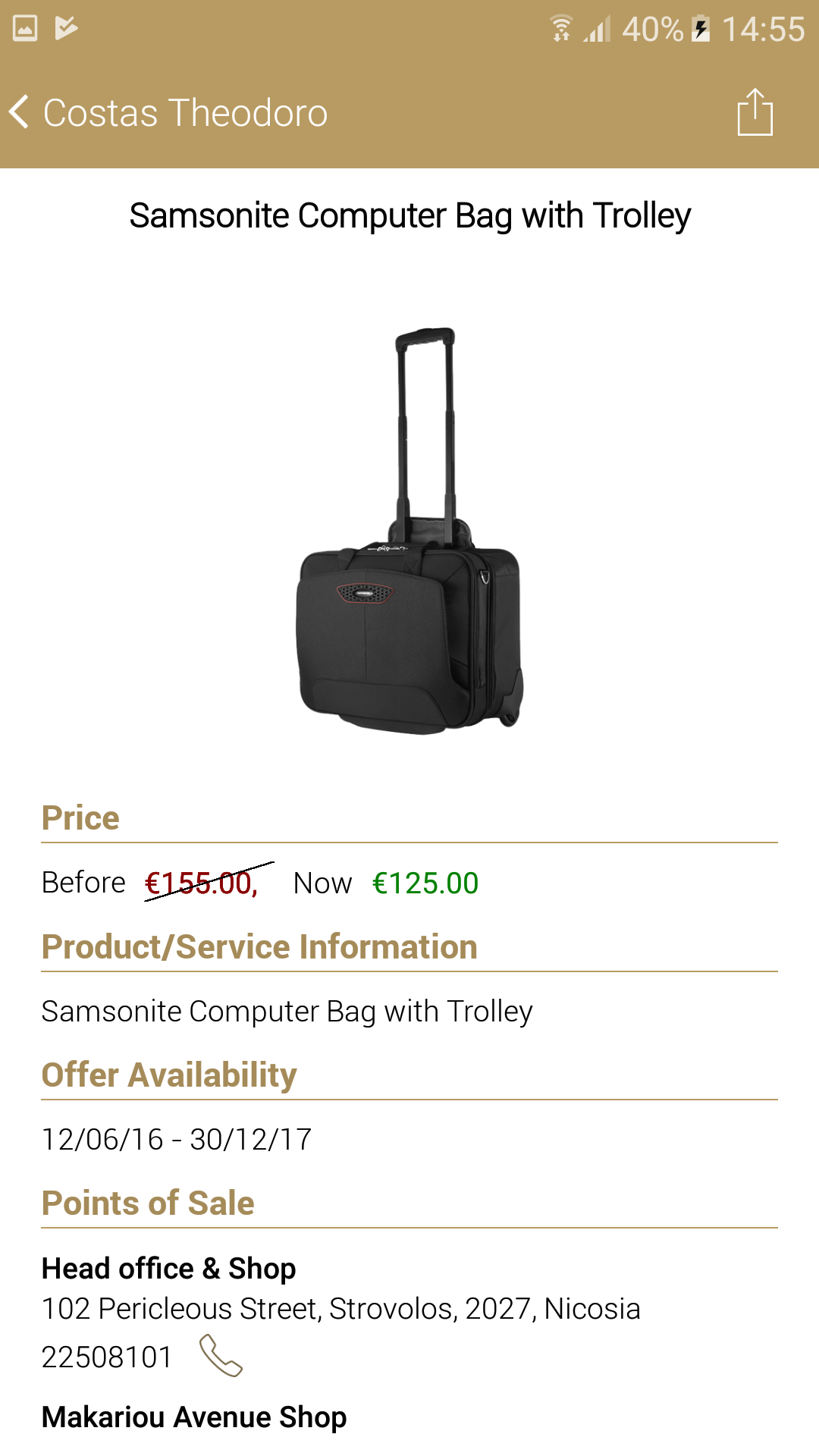 Detailed information about an Offer (images/videos, short & extented descriptions, pricing & availability, Terms & Conditions etc)
✔ Publish your Offers at any time. You have a daily? Publish it every morning. You have a flash offer? Publish it immediately.
✔ Schedule your Offers in advance. They will be published on the specified date.
✔ The validity period ensures no Offer will be viewable after it has expired
✔ An interactive method to communicate with your (existing and potential) customers and business partners which is not available in any other advertising method
✔ Targeted advertising method with measureable results
✔ Consider the environment. Reduce wasted paper (reduce leaflet production).
✔ No Inital Licence or Set-Up Fees, No Contract or Maintenance Fees. No Commitment. Pay as you Use the eMarketing service.
✔ Reduce your advertising budget. Have more regular discounted Offers for your customers and business partners instead and increase loyalty.
Benefits for the RichReach Application users
✔ The RichReach Application is free, can be downloaded at the smart device application stores and is easily accessible (on smartphones that are being carried almost everywhere)
✔ Dynamic and Interactive navigation
✔ Rich Content for maximum information
✔ Privacy: RR App users can Opt-In to the sellers (Permission Marketing) to be notified when new Offers are available (push notifications)
✔ RR App users can view the Offers when it is convenient for them
✔
Shopping Basket: Add interesting Offers to your RR Wish List to easily find them later (to buy them)
✔ Open again the Push Notifications received and view the Campaign Offers
Who can Publish Offers through RichReach eMarketing?
eMarketing is a Universal RichReach Application available to any seller:
  • Companies and Individuals
  • Operating at any industry and market
  • Selling Products and/or Services
  • To the Smallest Shop and to the largest Chain of Stores (any retail store, supermarket, brand manufacturers/representatives etc)
  • Professional and Service companies (auditors, lawyers, schools, gyms, construction, restaurants etc)
  • Self-employed individuals (professionals, home improvement/repairs, health et)
  • and many other sellers
Available Offer Types
✔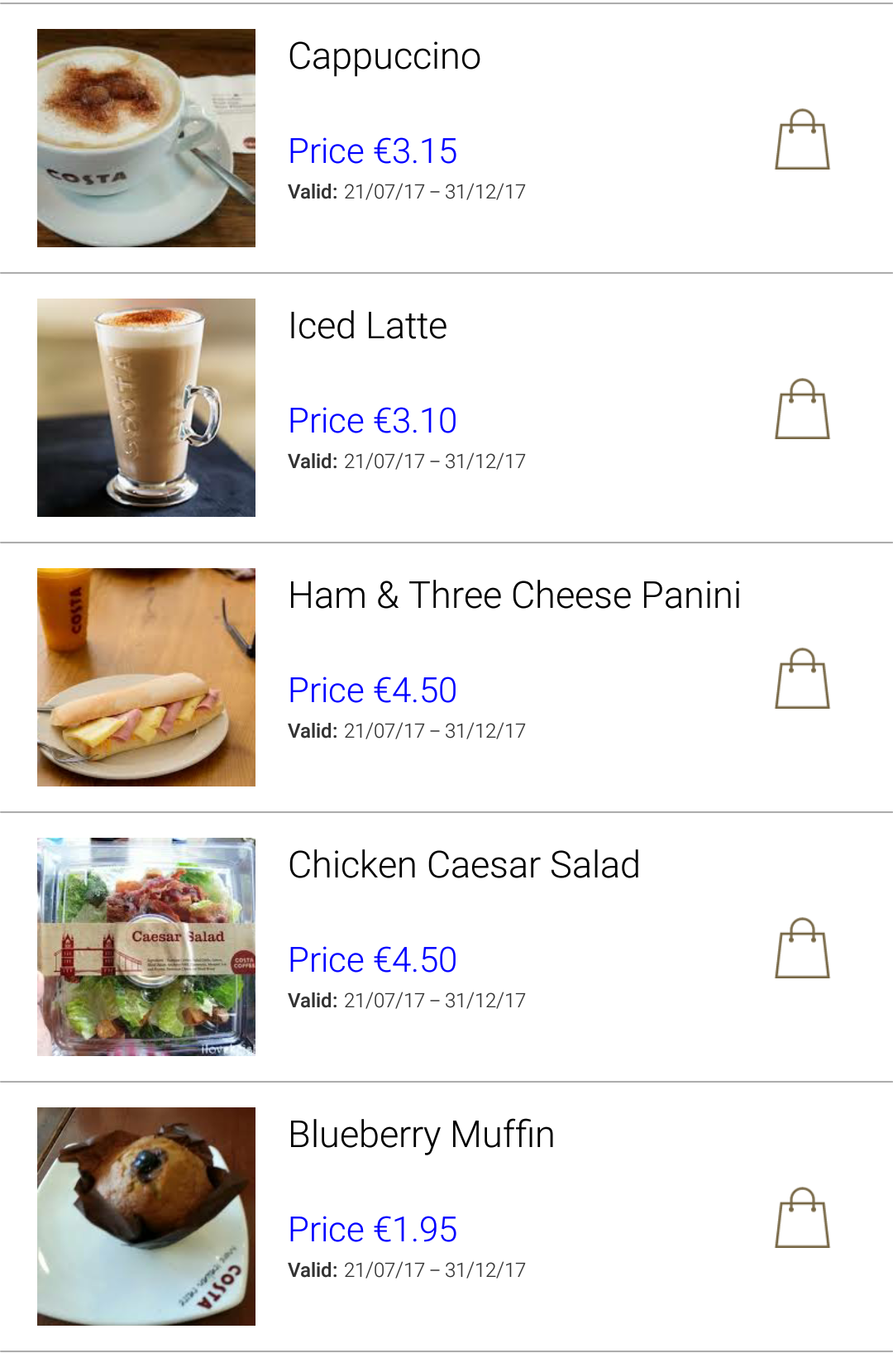 eCatalogue/eMenu: Offers with and without a price. Publish all or your most popular products/services. A restaurant can publish its whole menu.
✔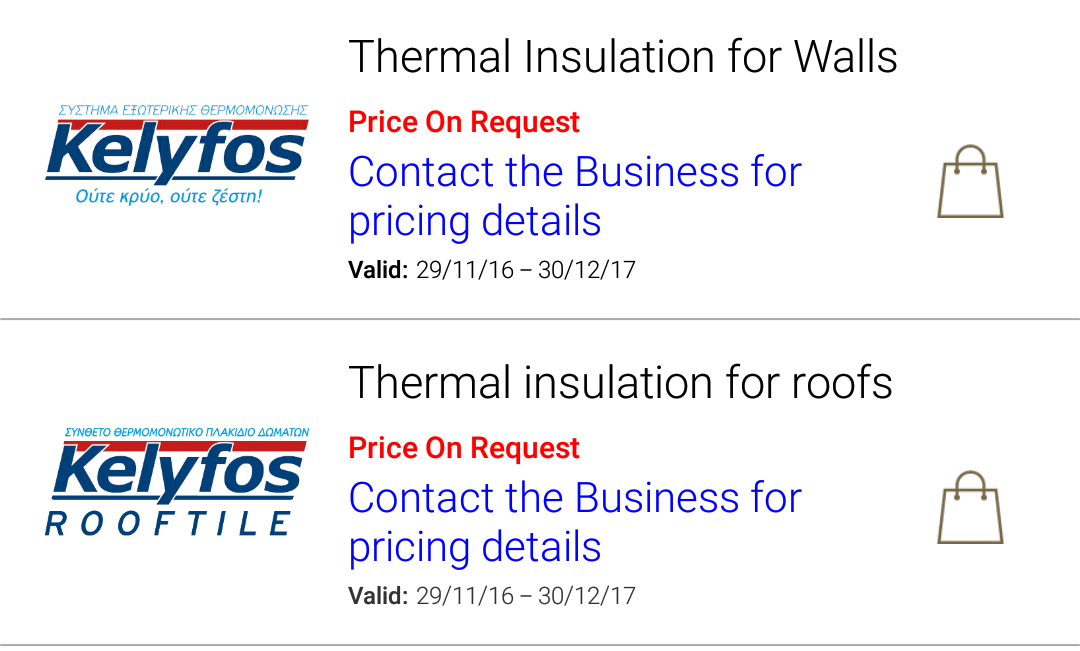 Price on Request
✔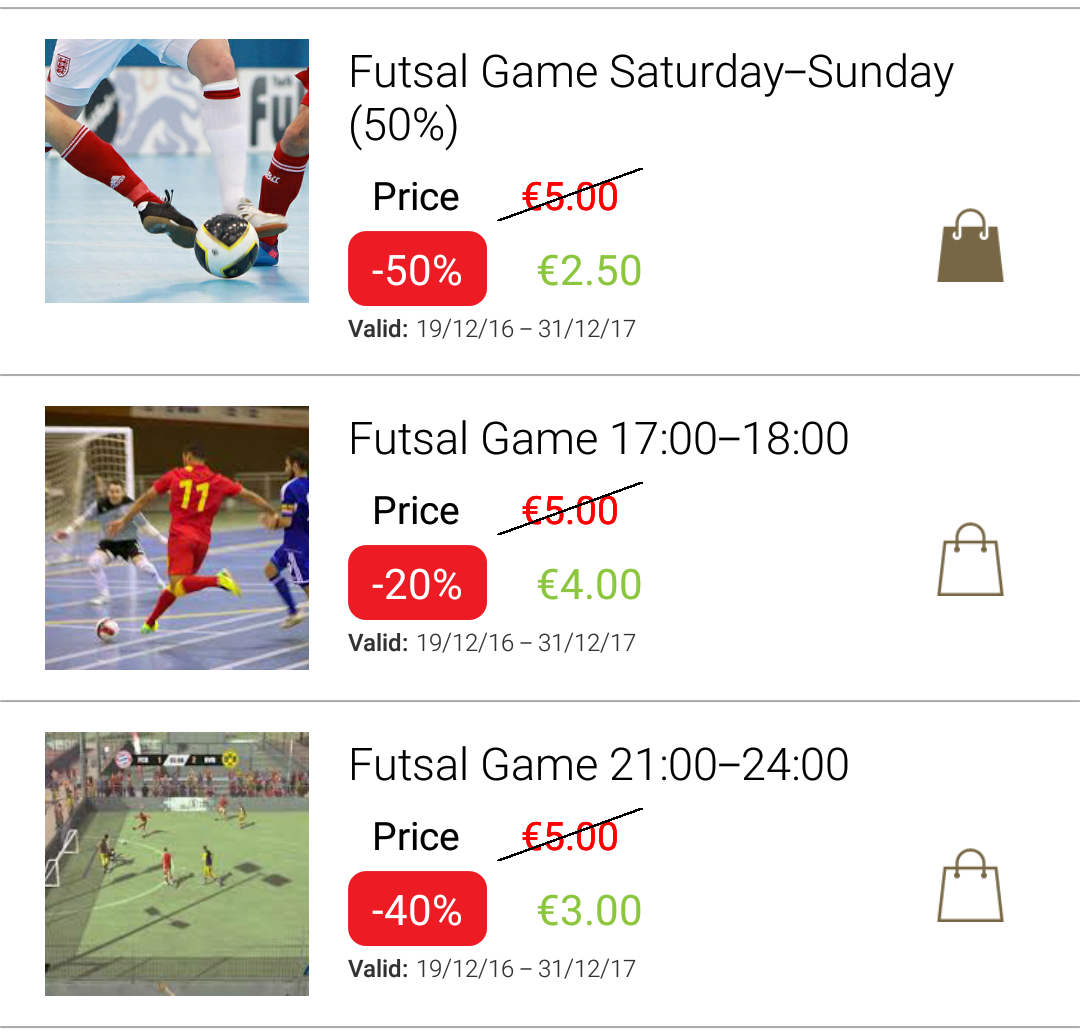 Discount (-x%) and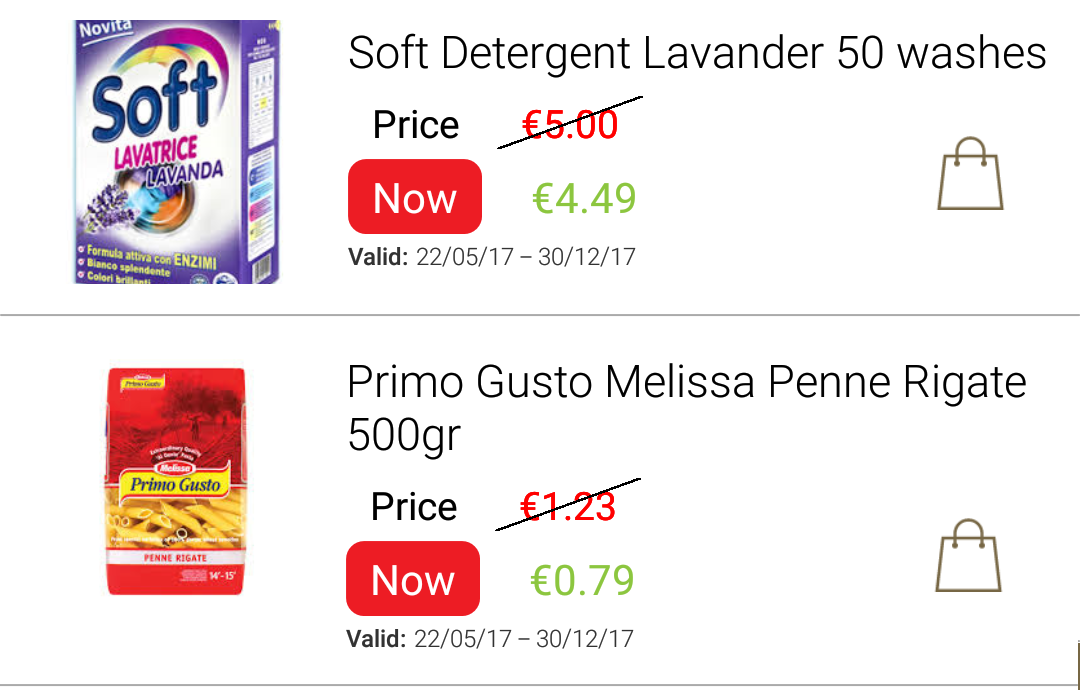 Special Price (Now €x.yz)
✔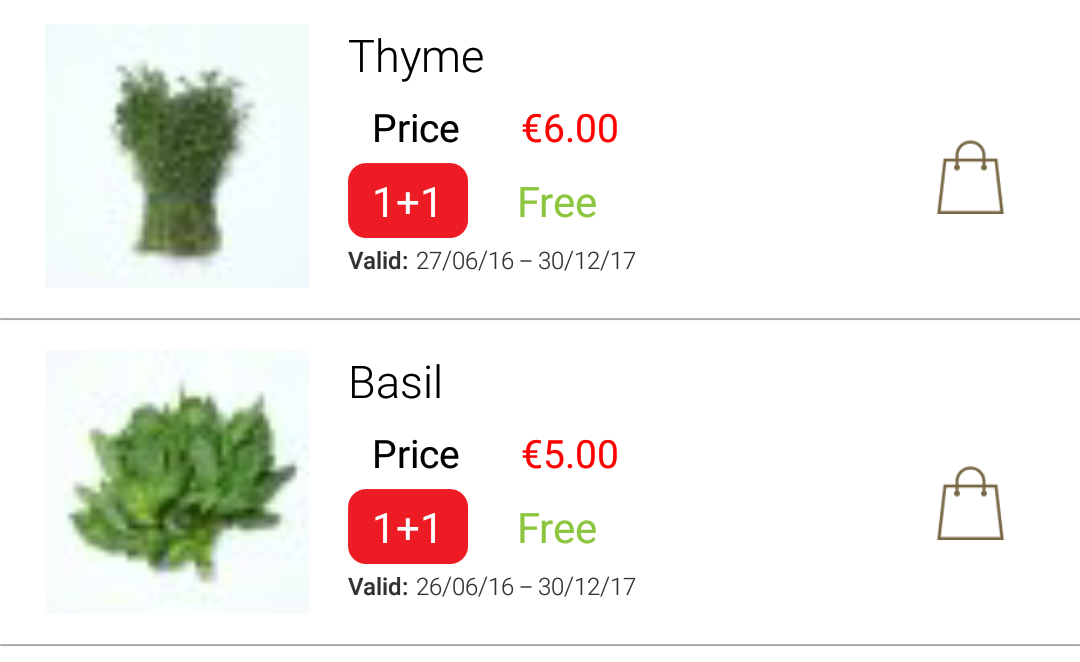 Free Units (X + Y free) and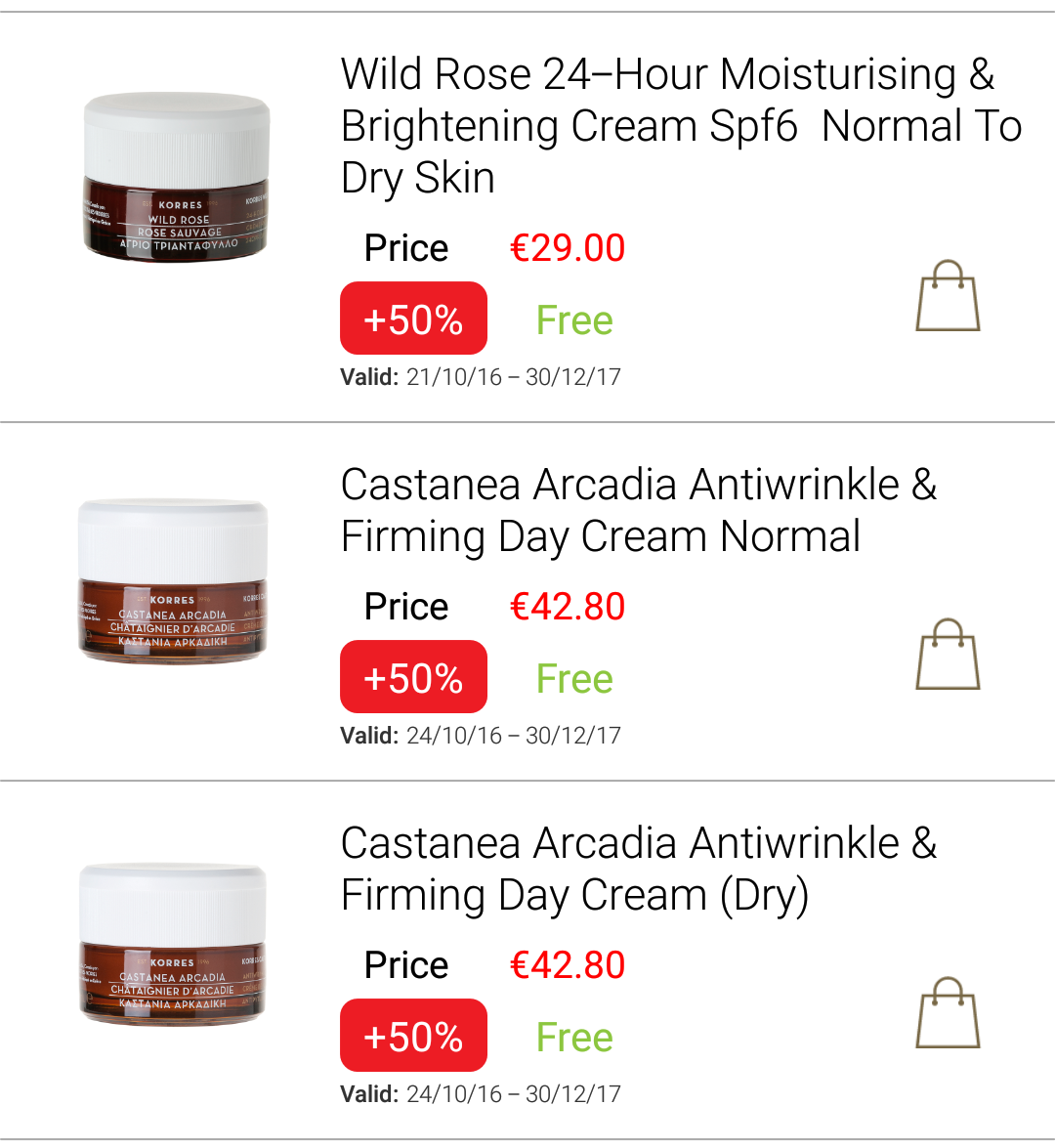 Free Quantity (+x% free)
✔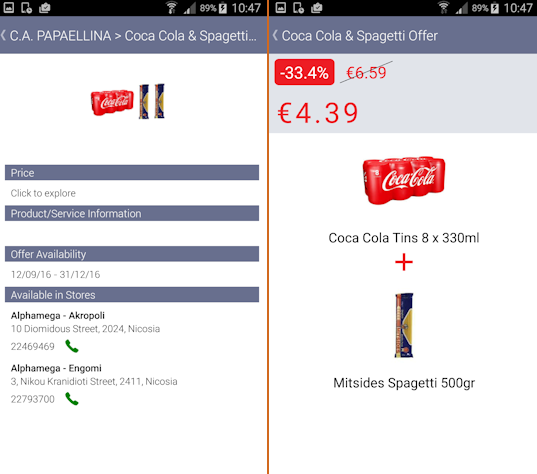 Combo Offer: Group multiple products/services together and offer them at a single special price.
✔

General Offer: Offers are not limited to specific products/services. Offers can apply to a category or brand (20% off all fish dishes) and to everything (Holiday Discounts 20%-50% off).
A product/service can have multiple Offers at the same time: different for each Point of Sale, different quantities (single chocolate and a box of chocolates) and wholesale (large quantity).
An Offer can be viewable by everyone or by specific individuals / mobile phones (private). The Private Offer feature is used by sellers who operate in the wholesale business and do not wish everyone to see their wholesale pricing. It is also used to create customised Offers for specific customers and business partners.
The available Offer types have been developed after considering our corporate clients requirements and practices. Additional Offer types may be added upon recommendation from existing eMarketing clients.
Points of Sale
A Point of Sale (PoS) is the location of an Offer. It can be a store, an office, a home or an online store (website). An Offer can be available at multiple PoSs.
Clicking on an Offer, the RR App user can view detailed information including where it is available (PoSs). It is recommended that you provide the full PoS information including telephone numbers and GPS location. This ensures your customers can easily visit and contact you. An eMarketing feature is the "Search for nearby Offers". A RichReach App user will authorise RR to use his/her GPS location to nearby PoS's that have Offers. This can create new business for you by attracting residents and visitors to enter your PoS.
Related Services
To assist you to promote your business and interact with your customers and business partners, eUmbrella Corporation will be releasing the following RichReach services:
  • Interactive Events
    Promotions & Competitions: Incentivize your customers and business partners to Opt-In to you at the RichReach App and win gifts and awards
    Surveys: Request Feedback from your customers and business partners to help you improve customer satisfaction and your overall business. RichReach Surveys are less intrusive than traditional survey methods since your customers and business partners decide when to participate. You can also add gifts and awards to incentivise them to complete the Survey.
  • Business Communications: RR App users can communicate with you for various subjects. The communication can be text, image and voice.
Notes:
1) RichReach is a platform that connects supply and demand. It is the responsibility of the sellers to provide correct and valid Content for eMarketing. eUmbrella Corporation cannot guarantee the correctness and validity of the Offers.
2) When you start using the RichReach services, your customers and business partners may not have yet downloaded the RichReach App. Although you can notify them with RR Campaigns (by traditional SMS), it is recommended that you inform them that they can find you, your products and services at the RichRech Application through traditional notification methods (example: when they visit your Point of Sale, at your website or your social media page).
3) The Sellers, Offers and Information shown at the images above and below are for eMarketing presentation purposes only and they do not reflect any specific preference by eUmbrella Corporation
---